Overview
Nepal Rental Car provides the best Eastern Paradise Ilam Tour package so that you can enjoy the beautiful natural beauty, mountains, and tea gardens residing in Ilam. Ilam is the best way to get rid of a busy life and enjoy nature with a ranging height of 3,636 meters above sea level and 700 km away from Kathmandu. You can reach Ilam from the roadway and airway but traveling in private vehicles road transportation is better than by air and by public vehicles. It will aid a lot in exploring the natural beauties and places en route with less (tends to no) hassle at all. Traveling by road transportation will take about 12 to 13 hours. The time to reach the destination and explore may vary.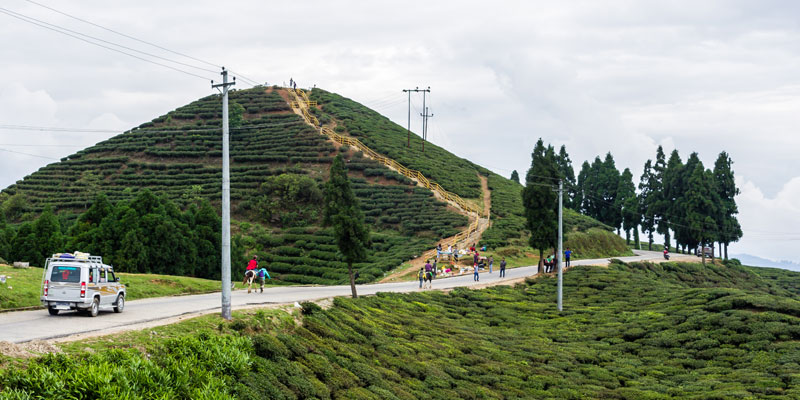 Ilam is also known as 'the Queen of the Hills' which offers a cool climate, green fields and forests, lush green tea gardens, and unique green culture. It's also famous for its major horticulture crop production. The major places where you will visit during these 5 days Eastern Paradise Ilam Tour are Antu Danda, Mai Pokhari, Kanyam, Fikkal, etc. Nepal Rental Car proffers more than 50 vehicles for hire that you can easily get as per requirement. NRC offers facilitated vehicles including cars, jeeps, vans, Hi-Ace, minibusses, etc at the most reasonable and best-guaranteed prices possible.
As your safety is our priority, we provide you with experienced and professional drivers with knowledge related to road trips. To avoid struggle, difficulty, and hassle, it is better to hire a private vehicle than to travel in a public vehicle. The luxury factors such as AC (Air Conditioner), Wi-Fi (Wireless Fidelity), mineral water and snacks on the travel, bendable seats, wide luggage storage area, etc are encompassed within the vehicles that you choose accordingly.
Eastern Paradise Ilam Tour Services
Nepal Rental Car provides two-way services of Eastern Paradise Ilam tour to make your journey in natural Nepal with comfort and less hassle. The rental vehicle will take you to the Eastern region of Nepal and let you explore the Ilam area and take you back to Kathmandu. It removes the stress of hiring more vehicles, hotels, food services, etc throughout the venture. We provide a clean and well-maintained vehicle with standard facilities to make your trip flexible and more reliable. The vehicles are hired along with experienced and skilled drivers who will help you to complete the whole journey more effectively, contributing more with their experience and knowledge they have. He will explain to you about the places as well when you have an interest to know about them. All these services are offered to you at a suitable and affordable price.
Eastern paradise Ilam Tour of 5 Days Package Plan
Kathmandu -> Ilam -> Antu Danda and Mai Pokhari -> Pashupatinagar -> Fikkal -> Kanyam -> Itahari -> Kathmandu
In this 5 days' tour to the Eastern Ilam Region of Nepal, you will move to Ilam with 12 to 13 hours of driving. This day, you will stay in the hotel and the next day, you will move around Antu Dada (in the morning to view the sunrise) and Mai Pokhari, and stay overnight. The next day, you will move to Pashupatinagar, explore and move further to Fikkal and stay overnight. Again, the following day, you will travel to Kanyam, explore and again head towards Itahari and stay overnight. Finally, on the last day, you will drive back to Kathmandu from Itahari and this road transport will take around 5 to 6 hours to complete. But the time may always fluctuate.
Driver for Eastern Paradise Ilam Tour
Nepal Rental Car is a reputed vehicle renting company so all the staff of our company is experienced and skilled. So, the driver provided to you have years of experience in road trips. They can tackle any obstacles if any arise in the midway. They have good English speaking skills so there won't be any problem with communicating. Interacting with the driver can be beneficial for you as they are experienced and have knowledge about the trip, you might get a lot of details during the trip. The driver will stop in some places for meals and short breaks other than that if you want to stop in any location you just have to ask the driver. Sometimes, there remains the chance that the vehicle stops at any point due to many reasons such as traffic jams, heavy rainfall, etc. So in such a case, have faith in the driver and let the situation get bettered. You will be transferred safely to your destination with our experienced and motivated drivers.
5 Days Eastern paradise Ilam Tour facts
Destination: Nepal
Starting point: Kathmandu
Ending point: Kathmandu
Duration: 5 Days
Driving distance: About 700 kilometers
Driving duration: Approximately 12 to 13 hours
Activity: Driving and sightseeing (boating if demanded)
Best seasons: October and December
Trip grade: Easy
Major Attractions of the Trip: Antu Danda, tea garden and greenery, Kanyam and Fikkal, Siddhi Thumka, Gajur Mukhi, Mai Beni, etc.
What can you expect from Eastern Paradise Ilam Tour with NRC?
While booking the trip, everyone will have some expectations of the company and the facilities provided. Here are some of the calculated expectations that you may have from Eastern Paradise Ilam Tour Service are as follows:
A lavish and flexible tour at a reasonable and affordable price

Fresh and well-furnished vehicles of different international brands

Years of experience and proficient driver with good English

Pick up and drop off facilities (inside Kathmandu and Ilam)

Can stop at any desired location

Spacious and relaxing ride during the whole trip

No need to worry about refilling the fuel and cleaning the vehicle after use

No independent driving is accessible as hiring a driver with the vehicle is mandatory
How long does it take to reach Kathmandu to Ilam?
The distance from Kathmandu to Ilam is about 700 kilometers which will take about 12 to 13 hours to reach. The time duration to reach the destination varies depending upon the road condition. If the road is clear, you can reach the destination sooner or faster. But in case some situations arise such as traffic jams, the arrival time may be delayed.
Can I stop midway through the journey?
Yes, you can stop midway through the journey. If you want to stop at any location you just have to ask the driver then he will stop. You can enjoy nature and take lots of pictures and videos as well. If you want to stop longer then you might reach your destination behind time. You have to pay extra for both the driver and the vehicle if you want to stay overnight in some places and have to inform the company about the changes. Also, the food and accommodation charges will be in your hand.
How can I hire a vehicle from Kathmandu to Ilam?
There is a safe and secure online booking system for Kathmandu Ilam Paradise Tour. You just have to visit the tariff section and book the vehicle as per your needs. You can also contact the authorized person personally and book the vehicle. Booking through social media like Viber, Skype, WhatsApp, etc is also available. You are recommended to book the vehicle 3 days before the trip and have to pay in advance to confirm your booking. Last-minute booking is also available but you might not get a vehicle as per your wish. Hand cash on arrival in Nepal is also appreciable.
Contact Person: Shiv Raj Adhikari
Contact Number: +977 9841724847 (active on Viber, Skype, WhatsApp too)
Nepal Rental Car provides various vehicle renting facilities to make your tour easy and comfortable. As we all know that traveling in public buses is tiring and a person can't enjoy the trip as per the wish. To get rid of it, you can choose the vehicle as per your need from Nepal Rental Car. You will also get standard facilities along with the vehicle. You will have the best trip to Eastern Paradise with our company. Nepal Rental Car will take you to the places in comfortable private vehicles as per your wish with a flexible itinerary and suitable price. You will be able to enjoy the natural beauty of that place in our vehicle with satisfaction.