Overview
Nepal Rental Car provides huge options of various luxurious cars with the most recent outlooks and modern technologies. We offer affordable and finest wedding car hire service that makes your wedding celebration an unforgettable day. We have a navy of top excellence vehicles for rent that can help your guests, family, and friends to enjoy the drive and also make your marriage party special. No matter what kind of marriage ceremony you're setting up, we are sure we'll offer the right wedding rental cars that suit the party as well as the whole marriage (wedding) function.
Nepal Rental Car has a wide range of vehicles with different styles including luxury rental cars, larger rental vans, rental jeeps, and many more for the wedding. You can also rent a car for a honeymoon if you're planning to spend time in beautiful corners in Nepal, we do provide rental cars for honeymoon tour. Nepal Rental Car offers various location options among which you can choose the right place of your command. Make your moments unforgettable in all those places at a significant and beatable price. Say yes to Nepal Rental Car with our complete services and excellent client services and hospitality.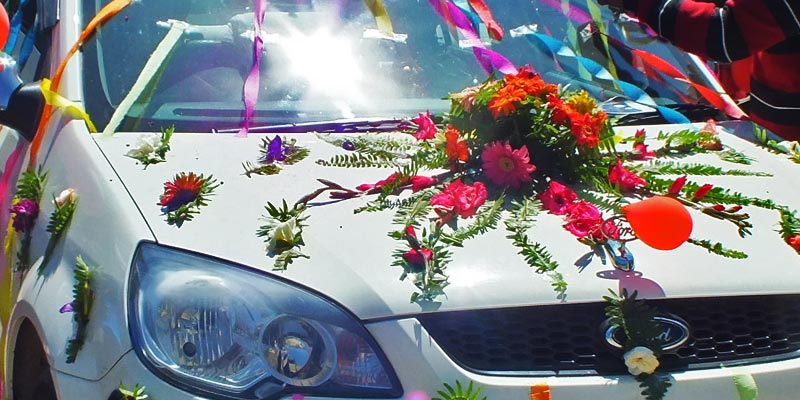 Vehicles are the most solid methods for transportation that gives you a ton of advantages throughout your journey. It spares your time in contrast with different rental vehicles. It additionally makes look lavish than others. While looking at wedding reason, vehicles are the best alternative to make your function superb and look incredible. It gives you an incredible look while in the gathering among others. You can have extraordinary photo-shoots with your rented wedding vehicle that is from luxury cars' criteria. This is another approach to gain considerably more experiences for a big day of life. Vehicles have numerous seats that you can enjoy with your families including your spouse and kids. You can likewise go to the wedding party with your companions.
Wedding car hire service gives you an expert leaning while at the assembly. You with friends and family get opportunities to unwind inside the vehicle and appreciate the snapshots of the wedding. Going in the style of a wedding party is a method for style to appreciate the day without agonizing over dealing with transportation and wellbeing all through the festive environment. Since weddings are exceptional events, the festivals that are cut over the rest, each couple would need their wedding to be the most breathtaking. This is the reason the wedding festivity pursue certain topics that ensure congruity from the wedding welcome to the lovely blossoms. The wedding vehicle is finished tuned in to the topic of the wedding rental service. Our wedding car hire service contract administration depends on the hourly and regular schedule according to the days required for the whole marriage ceremony.
Nepal Rental Car will give the best dependency on the best wedding car hire in Kathmandu, as well as in the whole of Nepal (if demanded). Nepal Rental car can provide you with several of transportation of your need like wedding Cars, wedding Jeeps, wedding Bus, wedding Hi-Ace, wedding Micro, etc., and the cost you have to pay according to the vehicles you rented. NRC group will assist their client with all that they need for renting a vehicle for your enormous day of life. Nepal Rental Car will offer a perfect rental vehicle and a well-trained driver. Likewise, you can finish the vehicle according to your financial plan and wish. In the event that you need an enriched vehicle, we can give you additional unsurpassed options yet it will be cost additional. Our driver will be there in your place as per the timetable you have offered. Our clients can trust our team fully. Contact and feel free to book best-wished wedding rental cars with Nepal Rental Car.