Overview
Pokhara is the best alternative to Kathmandu to stay and wander around. Himalayan view supported by sparkling sun, lake and green landscape also add zest in the scenario. Pokhara tour is one of the most do things in Nepal. It flaunts its natural and architectural beauty in an impressive manner. Hence, it takes you to the different level of satisfaction and excitement. Pokhara is situated at an elevation of 915m above sea level. It attracts thousands of tourists yearly which aids a lot in local income and living standard.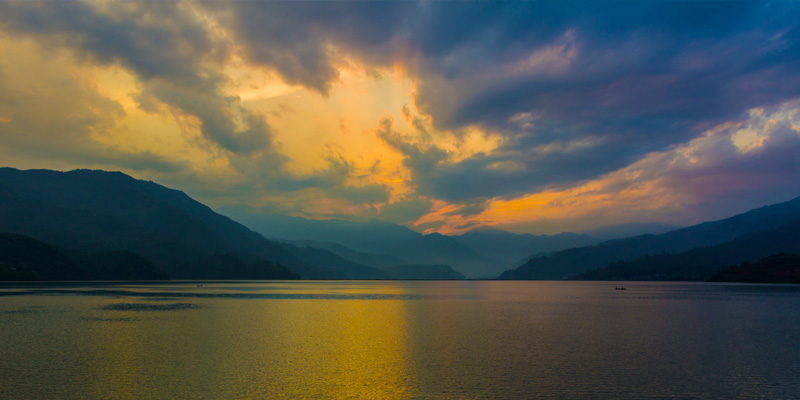 Pokhara is the rich city encircled with lakes, mountains (Dhaulagiri, Annapurna I, and Manaslu), fall, caves, and monasteries, temples, and sports activities' spots. These are the major attractions of the place. It is also an entrance for different trekking routes in the Annapurna region (ACAP region). It lies 200m west of Kathmandu, capital and one of the most populated cities of Nepal.
One day Pokhara Sightseeing tour provides the best opportunity of having the taste of a beautiful city with the natural, artistic and cultural blend. This trip starts with the sunrise view from Sarangkot, then in the afternoon, you will enjoy wandering around Mahendra cave, Tibetan camp (also Shang Gadhen Choekorling Monastery), and International Mountain Museum. You can also observe beautiful Davis fall and ensure boating over Phewa Lake.
Itinerary
5.00 am: Early wake-up and move towards Sarangkot in private vehicle and return back
9.00 am: Have a breakfast
9.30 am: Visit Mahendra cave and Davis fall
12.30 pm: Return back to the hotel and have lunch
1.30 pm: Visit International Mountain Museum and Tibetan Refugee Camp
5.00 pm: Return back to the hotel