Overview
Pokhara, the major destinations of people from all around the world visiting Nepal. The city is the major attraction of Nepal as it is naturally blessed with lakes, caves and beautiful view of mountains. Most of the adventurous dreams in Nepal is fulfilled in Pokhara which makes the city more interesting.
Pokhara is the second most developed city after the capital city Kathmandu. It is 200km away from Kathmandu and is the most adventurous place if Nepal as most of the adventurous activities can be done in this area. Pokhara consists of many lakes and caves to make the city amazingly beautiful. The major natural attractions of Pokhara are the lakes, caves, and falls namely, Phewa Lake, Begnas Lake, Davis falls, Mahendra cave etc. The view from this area is amazing as the city lies very close to the Himalayan range of Annapurna and Machhapuchre. Other places to visit in Pokhara are Sarangkot, international museum, etc.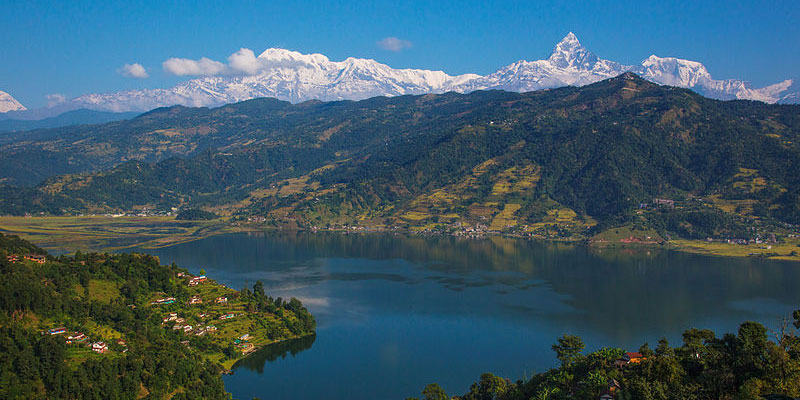 Beautiful View of Phewa Lake, Himalayan range of Annapurna and Machhapuchre.
Photo by : Jmhullot
The things to do list in Pokhara might be quite long as many of the adventure things could be done here. The place is famous for adventurous activities like boating, paragliding, hot air ballooning, trekking, skydiving etc. the boating could be done in lakes of Pokhara. The lakes have their religious beliefs containing a temple as well. Paragliding in Nepal is famous in Pokhara city. The flight takes off from Sarangkot and continues for almost 30 mins. Hot air ballooning is recently launched in Pokhara after a long gap giving the mesmerizing view of the city. Talking about the trekking, the trekking would be the most adventurous option in this area providing the experience of crossing beautiful snowy paths of Annapurna Himalayan ranges. The tour includes a three-night four-day package. The tour starts with a ride from Kathmandu to Pokhara. The tour overall covers the Phewa lake boating, Davi's fall, Mahendra cave, a beautiful view from Bindhyabasini temple, the visit to international museum and view from Sarangkot and also paragliding or other activity if you wish to. The tour can be stretched or shortened according to your wish. The tour includes the experience of beautiful views and scenarios of greenery and water including the views of Himalayan ranges as well. You can also experience a view from above the height performing adventurous activities like paragliding or hot air ballooning. The view from the height covers the beautiful lakes and mountains of the Pokhara region.
Nepal rental car provides a good vehicle suitable for your tour and moves with you according to your flexibility. The services provided by Nepal rental car is trustworthy and smooth. The rented vehicle would be with you according to your demand. The driver would be with you throughout the journey or just within pickup and drop services according to your demand.