Everest base camp helicopter tour with landing flight is the "Journey of Joy" to see the close eye view of Mount Everest within 4 to 5 hours of a day. Reaching Everest base camp by helicopter with landing is the traveler's bucket list. Helicopter tour to Everest base camp provides landing opportunities to different must-see places of Everest region.
A helicopter ride to Everest base camp is the best decision for travelers because it saves time and energy. Generally, it takes 10 days to 20 days to reach Everest base camp depending upon the itinerary. But with this Everest base camp helicopter tour, you are able to reach the base camp of Mount Everest within a day. It is also known as the 1 day Everest base camp tour. The southern side of the Everest base camp is in Nepal within the Khumbu glacier whereas the northern side falls across the border of Tibet within a massive Rongbuk glacier.
Instant booking contact for Everest base camp helicopter tour with landing:
Binod (+977 9801017030 - Binod Sapkota) 24 Hrs Available on WhatsApp, Viber, or WeChat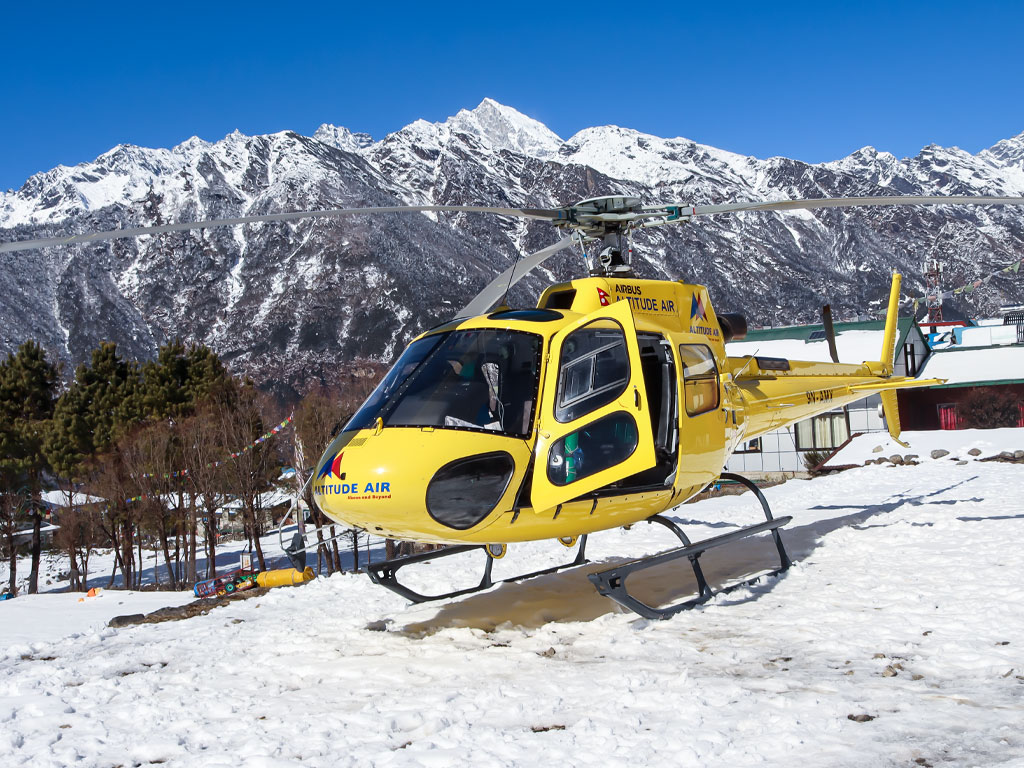 Everest base camp is also famous for mountaineering and trekking among travelers all around the world. Besides that, one can take a helicopter flight to view Mt. Everest which is the easiest and best way possible. Everest base camp helicopter tour with landing begins and ends at Tribhuvan International Airport, Kathmandu, Nepal. The distance from Kathmandu to Everest base camp is about 160 km. Everest Heli tour provides different landing points during the trip.
Everest helicopter tour is suitable for different stages of life from Toddler (2-4 yrs) to Senior adult 60+. The helicopter tour path is customizable depending upon flight landing points by extending or shortening the time. So, you are able to customize as per your choice.
List of Helicopter landing points of Everest base camp helicopter tour.
Here is the list of different Everest base camp helicopter tours with landing flights:
Lukla Airport
Pheriche
Kala Patthar – Viewpoint of Mount Everest.
Hotel Everest View – Landing for Breakfast.
Lukla Airport – First Helicopter flight Landing Point in Everest Base camp helicopter tour.
The first phase of the Everest base camp helicopter tour starts from Kathmandu with helicopter fly over through Bhaktapur, Nagarkot hills, Jiri Forest, and land at Lukla. The helicopter flight takes 45 to 50 minutes to reach Lukla airport.
Lukla airport is one of the dangerous airports for landing regular planes. So, flying in a helicopter is the best option for travelers to reach Lukla in the safest way. Lukla is the gateway of Everest base camp. After reaching Lukla, you can enjoy the view of Lukla village, Lukla flight landing, mountains, greenery, mountain peaks.
Pheriche – Second Helicopter flight landing point in Everest helicopter tour.
The second landing point of the Everest base camp helicopter tour is Pheriche village. Pheriche is a small village in the Khumbu region of Nepal. It is situated at an altitude of 14340 ft. Pheriche is popular among trekkers and climbers. Landing at Pheriche is one of the best chances to experience the different angular views of Mount Everest, surrounding Himalayas, Himalayan yak, and more. Pheriche is also used for helicopter shuttles.
Kala Patthar – The viewpoint of Mt. Everest.
Landing at Kala Patthar is the point from where you are able to see the clearest view of the World's tallest peak "Mount Everest". It is a notable landmark for trekkers. Kala Patthar is the highest viewpoint of Everest. It is also considered an observation deck since it provides a close-up view of Mt. Everest.
Hotel Everest view - Best breakfast in the Himalayas
The Everest View Hotel is well-known for its great breakfast time of at least 1 hour, particularly for guests becoming a member of the Everest helicopter tour. Hotel Everest View is the very best resort positioned at 3880m above sea level. An up-near view of Mount Everest, greenery, and mountainous terrain is the primary enchantment of the Everest View Hotel. They also are uncovered to nearby living styles, traditions and supplement with diverse luxurious dinings.
For easy conversation:
Binod (+977 9801017030 - Binod Sapkota) 24 Hrs Available on WhatsApp, Viber, or WeChat