Kathmandu to Mount Everest by helicopter tour is the shortest ride to the highest mountain in the world. It grants a journey from the capital city of the nation to the different sectors of the 8848.86 meters tall mountain in the northern side of Nepal. It takes around 4 to 5 hours of flight to reach Mt Everest (base camp or Kala Patthar) by helicopter.
Mount Everest is around 160 kilometers away from Kathmandu and it takes around 30 days to reach the summit. And to reach the base camp Everest or Kala Patthar viewpoint, it takes around 1 to 20 days to reach by taking a different route. However, the most popular routes are from Kathmandu to Lukla by small airplane flight and continuing the trekking trail to base camp, and another one is from Kathmandu to Jiri with road drive and then continuing the trekking through the legendary route to base camp / Kala Patthar.
Kathmandu to Mount Everest helicopter tour is the shortest and most desirable route for the people who wish to view the grandeur, of Mount Everest, before them in the shortest time possible. However, the preferences vary as some travelers want to scan the whole route and make their journey as adventurous as they can. Mount Everest Kathmandu helicopter flights are operable throughout the year, yet, the main seasons remain autumn and spring in which the months like March, April, May, September, October, and November lie.
For more to know about the Everest base camp helicopter tour
Binod (+977 9801017030 - Binod Sapkota) 24 Hrs Available on WhatsApp, Viber, or WeChat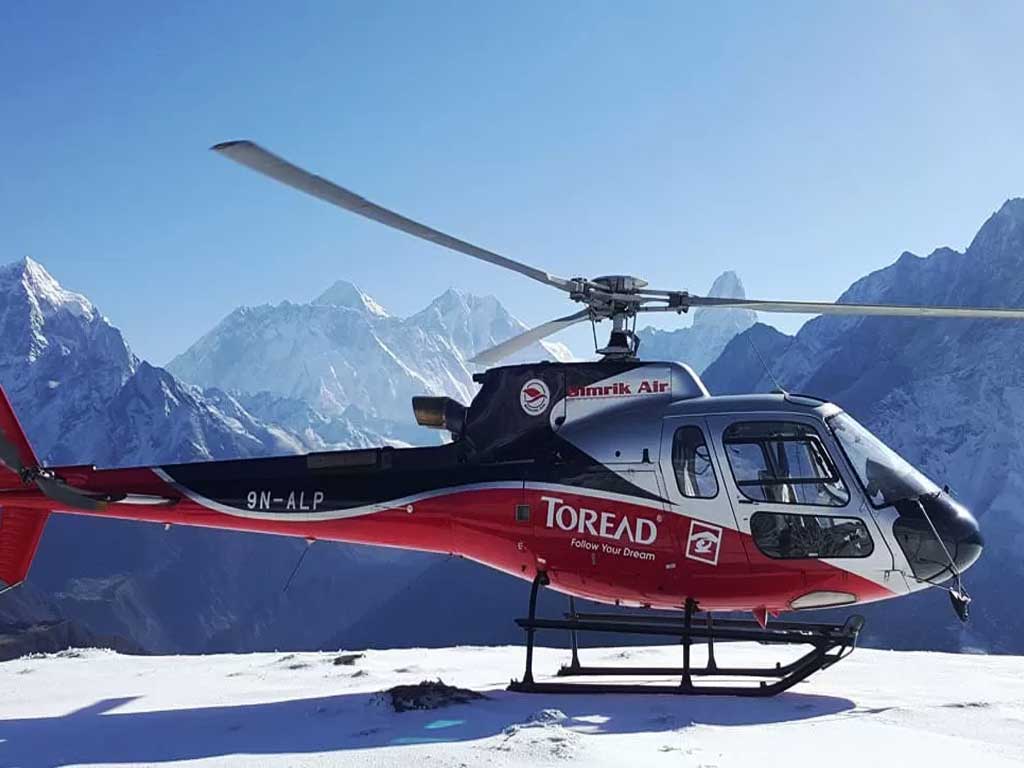 Here, the name indicates Kathmandu to Mount Everest helicopter tour, however, it implies the helicopter flight from Kathmandu to Kala Patthar (or base camp). This is because the helicopter flies up to the height of 5644 meters (Kala Patthar) offering the best view of Mount Everest and surrounding mountains, natural topography, and Himalayan wilderness. Also, it is not possible to land the helicopter at the top of Mount Everest because the mountain is covered with sub-freezing temperatures, hurricane-force winds, and snowstorms that can shred metals in no time. Likewise, in the main seasons, when the climate seems to be relatively calm, the wind flow is 75 MPH, which is strong enough to be classified as category 1 hurricane winds. Thus, it satisfies the query like can we reach Mount Everest by helicopter!
The only record of the highest altitude landing was made in the year 2005 for 3 minutes and 50 seconds by Didier Delsalle. This landing was for testing purposes only. Still, there is no provision of a helicopter landing at such a great altitude of 8848.86 meters by the government.
Kathmandu to Mount Everest route by helicopter
Kathmandu to Mount Everest helicopter flight starts from and ends at Kathmandu, the capital city of Nepal. After the helicopter takes off from the domestic terminal of Kathmandu, it flies for around 45 to 50 minutes and lands at Lukla airport. Here, the refueling is done. After 10 to 15 minutes of break at Lukla, the helicopter flies towards Kala Patthar with a helicopter flyover through Everest base camp and lands there for around 10 minutes. Afterward, the helicopter glides to Hotel Everest View and stops for around 30 to 35 minutes for breakfast and photographic time. Then, you will fly from Hotel Everest View to Kathmandu via Lukla, completing the distance in around 60 minutes.
Major Attractions of Kathmandu to Mount Everest helicopter tour
Kathmandu to Mount Everest helicopter tour is the simple and momentary way of reaching the high point of Everest mountains, Kala Patthar - 'the black rock'. With the remarkable landing at a high altitude, here are some of the main attractions of the Kathmandu Mount Everest helicopter tour:
Landing at an altitude of Kala Patthar (5644 meters).
Extra-ordinary breakfast (optional meal) at Hotel Everest View (3880 meters).
Landing and take-offs from one of the highest altitude and dangerous airports in the world, Lukla Airport (2860 meters).
Aerial and terrestrial view of high mountains like Mount Everest, Ama Dablam, Lhotse, Nuptse, Cho-Oyu, Gauri Shankar, and many more of Mahalangur mountain ranges.
Run-away from the city hustle towards the serene natural environment within the shortest time frame of 4 to 5 hours.
Kathmandu to Mount Everest by helicopter Price
The Kathmandu to Mount Everest helicopter tour runs on a daily basis on the best months (March, April, May, September, October, and November) with the cost starting from $895. And, the cost for the Kathmandu to Mount Everest helicopter tour in off-seasons (months including December, January, February, June, July, and August), remains slightly higher. Likewise, the Mount Everest helicopter tour cost varies according to the trip type (group joining basis or private group basis) and the way of payment (paying together or individually). Here is the price description for Kathmandu to Mount Everest by helicopter flights:
Group sharing basis: $895 (per person)
The private basis for a group of 1 to 3 people: $3300 (per group)
The private basis for a group of 4 to 5 people: $4200 (per group)
Note: Do not fully rely on these price ranges as they are just estimated ones. You can contact us personally and get to know about the prices in detail. We are happy to answer your query at any time of your preferences.
Can Everest be seen from Kathmandu?
Yes, Mount Everest can be seen from Kathmandu. Following are the places, from where one can easily view the sight of bohemian Mount Everest when the weather condition is favorable and the sky is clearer:
Nagarkot
Chobar
Chandragiri hills
If you are in Kathmandu and want to have a short glimpse of Mount Everest, reaching out to these places and observing the views is the best alternative.
How to get Mount Everest from Kathmandu
One can reach Mount Everest from Kathmandu via different modes. Some of them are trekking, helicopter flights, and hikes incorporated with small airplane flights or road drives. Here are some of the commonly used routes for Kathmandu to Everest travel in Nepal:
Mount Everest base camp helicopter tour
Mount Everest base camp trekking from Lukla
Mount Everest base camp trek from Jiri
Therefore, if you are in Kathmandu or in any places around Nepal, complete the Everest base camp / KalaPathar journey with us at reasonable costs and customizable itineraries. We are here to serve you with the finest amenities and hospitality. Feel free to contact us for any queries regarding the Mount Everest tour packages (and other rental car or helicopter services) in Nepal.
Quick contact:
Binod (+977 9801017030 - Binod Sapkota) 24 Hrs Available on WhatsApp, Viber, or WeChat