Kala Patthar helicopter tour promises travellers from all over the world, a once-in-a-lifetime opportunity. The helicopter tour to Kala Patthar will last approximately three and a half hours. The majestic mountains can be seen as you begin to fly out of the Kathmandu Valley. You will not want to return once you've flown over the mountain region. It's as if you've stepped into paradise. The scenery before you is breathtaking, with snow-capped peaks and glacial ranges.
Kalapatthar helicopter tour is a thrilling helicopter tour to the Everest region's highest viewing point. The "black rock", or Kala Patthar is well-known among trekkers as the best viewing spot for Mount Everest. The golden sunrise and sunset views over the beautiful Himalayas can be seen in the Kala Patthar Heli tour. This helicopter tour is famous among both national and international travellers.
Contact now for Everest base camp helicopter tour:
Binod (+977 9801017030 - Binod Sapkota) 24 Hrs Available on WhatsApp, Viber, or WeChat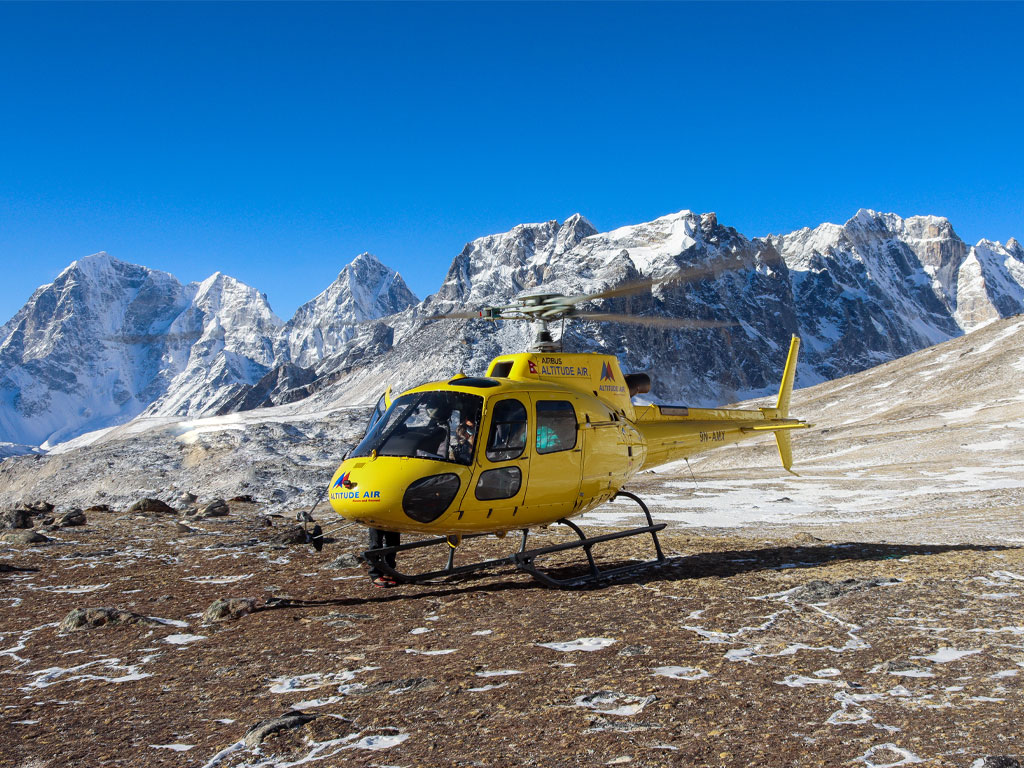 Kalapatthar helicopter tour from Kathmandu is the most renowned and explored tour in Nepal. We proffer daily fixed departures from morning to afternoon in a private group or group joining base with brand new helicopters and well-experienced aviators. Cruise comfortably to see the most precious jewel of Nepal, Mount Everest, from the prominent vantage point Kalapatthar. explore and enjoy the most pristine view of high mountains, green timber, brownish hills, wild alpine blooming flowers, and adjacent snowy landscape at the lap of the giant Himalaya.
Kathmandu to Kala Patthar distance
According to the landmarks, the distance from Kathmandu to Kala Patthar is about 153 kilometres. The duration to reach Kala Patthar from Kathmandu depends on the mode of transport preferred by the travellers such as helicopter, plane or road from Kathmandu to Jiri and more.
Lukla to base camp helicopter tour - Lukla to Kala Patthar helicopter tour
Lukla to Base camp( Kalapathar) helicopter ride is a comprehensive drive to get a taste of Mt. Everest precisely in one day. The natural beauty of the Khumbu region can be enjoyed from above, where you can take in the whole view of the snow-capped peaks, glaciers and Sherpa Towns.
This helicopter operates from Lukla (Tenzing Hillary Airport) to EBC (Black Stone). The distance from Lukla to Base camp( Kalapathar) is about 37.2 kilometres which will take about 35 to 35 minutes to reach.
Kathmandu to Kalapatthar helicopter tour
Kathmandu to Kalapatthar Helicopter Tour is an adventurous ride that takes you to the farthest heights of Everest, landing at Kalapathar (Vantage Point) before gliding to the Everest base camp. From the heights, beautiful views of mountains, rivers, green hills, flowerbeds, farms and Sherpa settlements can be seen. It is a quick and easy journey to experience Mount Everest. Heli ride to Kala Patthar will brim your life with extra spice and joy after you step your foot to the well-known viewpoint at Kala Patthar.
Kala Patthar (Everest base camp)
Kala Patthar is also known as "Black Rock" at a height of 5,644.5 metres (18,519 feet) and is famous for its incredible peak view of Mount Everest. Kala Patthar offers magnificent views of Mount Everest, Gaurishankar, Mt. Mother Dablam, Makalu, Cholatse, Nuptse, Pumori, Lhotse and many more. Along with many of the world's tallest peaks, you will see oak, pine, rhododendron bloom, Khumbu Icefall, Namche Bazaar, Tengboche Gumba, the green woods of the original Sherpas and other climbers.
Due to the structure of Mount Everest, the summit is not really clear from the base camp and to ignore it, most hikers choose Kala Patthar.
Helicopter ride to Kala Patthar
Helicopter ride to Kalapathar starts not only from Kathmandu but also from various places of Everest including Lukla, Phakding, Namche Bazaar, Dingboche, Tengboche, Pheriche, Hotel Everest View, Gokyo. No matter where you start, the picturesque Kala Patthar Heli ride offers breathtaking aerial views of the natural geography throughout the journey.
Alternative flights from Lukla airport
Despite the initial point being Kathmandu for this Kala Patthar helicopter tour, it lands at Lukla for defueling. From Lukla, there are many other alternative flights to various other places in the Everest region. Listed below are some of the alternative flights accessible from Lukla:
Lukla to Namche Bazaar helicopter tour
Lukla to Tengboche helicopter tour
Lukla to Pangboche helicopter tour
Lukla to Lobuche helicopter tour
Lukla to Gorakshep helicopter tour and more.
Kala Patthar helicopter tour cost - Private or group joining tour
The cost for the Kalapatthar helicopter tour varies according to the traveller's schedule and the services/facilities requested by the client. The number of individuals (e.g. group, private, group joining, individual, etc.) makes Kalapatthar helicopter tour cost differ accordingly.
Kala Patthar helicopter tour - Group joining basis
The Kala Patthar Helicopter tour operates on a group joining basis. We offer group joining dates as fixed departure dates for helicopter flights and gather people to board the helicopter on a cost-sharing basis. The total cost of the helicopter tour will be divided into groups flying together. However, if you are single or have a minimum number of people in your group and would like to fly by helicopter to Kala Patthar on your favourite date, feel free to contact us to join the group.
Kalapatthar helicopter tour - Private tour
It is the best and easy way to transfer from Kathmandu to Kala Patthar by private flight. A private helicopter is easy to operate on time as it is your private ride and there will be no waiting for other groups, flying around in the interest of others, and so on. However, the cost of a private Heli tour is higher than a group tour. You can form your own group and contact us so that we can arrange your private helicopter ride at your preferred date and time.
For more information about Everest base camp helicopter tour
Binod (+977 9801017030 - Binod Sapkota) 24 Hrs Available on WhatsApp, Viber, or WeChat