The outbreak of Noble Corona Virus (COVID-19) is intimidating the whole world which has come up in more other countries with an initial effect in Wuhan, China in late December. This virus has affected many countries due to which the death rate of people is increasing day by day. Many people have recovered from it but the rate of infected people is also increasing per day in a huge number.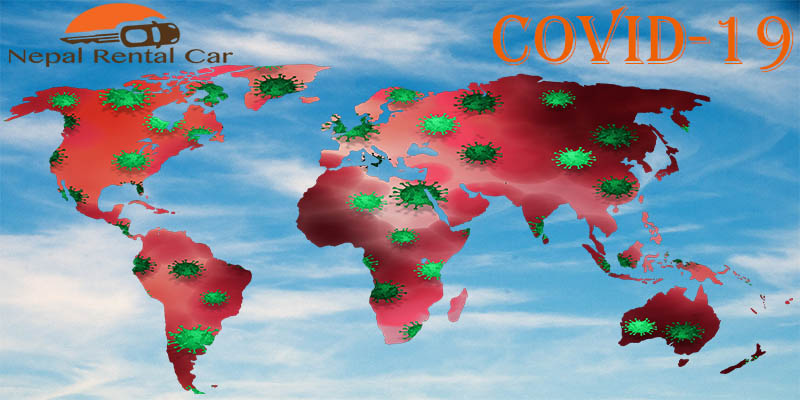 What is Corona Virus?
Corona Viruses are a group of viruses with a positive-sense single-standard RNA genome and a nucleocapsid of helical symmetry where the genome size of virus range from about 27 to 34 kilobases, the largest among RNA viruses. It affects human beings typically leading to an Upper Respiratory Tract infection. Many countries are affected by this virus resulting high rate of death. According to world meters, there are 750,028 active cases where the mild condition patients are 712,373(95%) whereas serious condition patient is 37,655(5%). At the same time, the closed cases are 266,371 from which the recovered number of people is 213,133(80%) and the dead people are 53, 238(20%) till 3rd April 2020.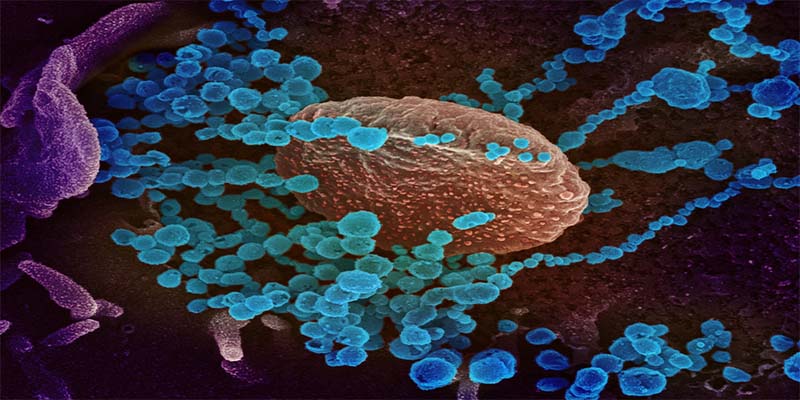 Symptoms of Corona Viruses
People may get sick for 1 to 14 days before developing the symptoms. The most common symptoms of Corona Virus (COVID 19) are fever, tiredness and dry cough. Most of the people (80%) recover from this disease without any medical treatment, just maintaining healthy hygiene and staying in isolation. In rare cases, this disease can be serious and fatal. People with other medical problems like Asthma, Diabetes or heart disease and older people (more than the age of 50) are vulnerable to becoming seriously ill because of this COVID-19 illness. Some of the common and severe symptoms are mentioned below
Common symptoms: Common colds, respiratory difficulty, shortness of breath, cough, fever, tiredness, sore throat and rapid pulse rate.
Severe symptoms: Infection causing severe Respiratory Tract Infection, Pneumonia, kidney failure, etc. These are the major causes of death.
Preventive Measures for Corona Virus
As this virus, COVID-19 was discovered recently in late December 2019, there is no appropriate medication developed for it. The correct diagnosis and researches of laboratories are still going on. Since no medication facility is the major problem right now; here are some of the home remedies or prevention measures for COVID-19 to eradicate its effects and to control its spreading.
Wash hand regularly for 20 seconds with soap and water or alcohol-based hand rubs
Cover your nose and mouth with a disposable tissue or flexed elbow while coughing or sneezing
Avoid close contact with suspected and unwell people
Stay at home and self- isolate yourself in the home if you feel unwell
Avoid gathering in groups
Don't touch your eyes, nose, and mouth if your hands are not clean
Carry sanitizer containing alcohol 60%
Use mask and gloves while walking outside the house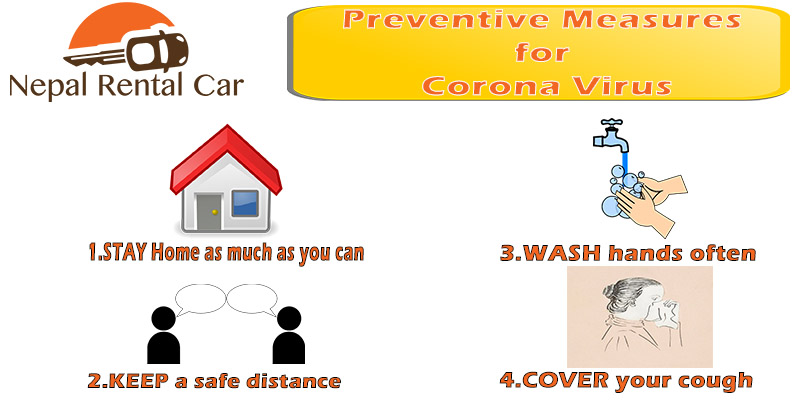 We also recommend you to do a genuine checkup in near hospital for precautions
Effects of Corona Virus in Vehicle Rental Service in Nepal
Recently, Nepal has found 6 cases of corona infected person due to which the government of Nepal has started temporary lockdown to prevent the disease from spreading. The temporary Quarantine has affected the whole of Nepal as all the business fields in the Nepali market. The severe impact of this activity has marked on the fields of tourism, transportation services, foreign employment, manufacturing, and trade. Moreover, the effects of the Corona Virus in Vehicle Rental Service in Nepal are as follows:
Many previously made booking has been canceled which has hampered financially
Drivers are not able to work properly as they cannot drive freely and a special pass is required for driving vehicle
Vehicles are kept without use for more than 10 days
Right now, the vehicle fuel rate is low but it is of no use as we are not able to use the vehicle
Employees have to work from home which has increased the mental pressure
The office has been closed due to lockdown so many clients are not able to meet and greet personally face-to-face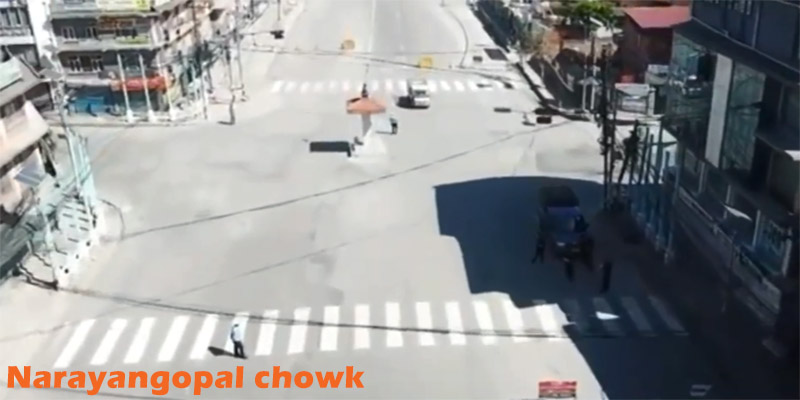 Corona Virus and its Effects in Nepal
Coronavirus has affected the whole world and is slowly showing its effects in Nepal as well. The number of people infected with it has increased to 6 and they are being treated well, and fortunately, there is no number of deaths in the country. Here, some of the effects and impacts of coronavirus (COVID-19) in Nepal are mentioned as follows:
The whole country has been locked down because of which the employment field, schools, colleges, institutions, etc have been closed
Country's trade, manufacturing, tourism industries have stopped (if working, then also in slower pace)
The employees of many offices have been suspended and have been staying at home for a long period of time
Transportation services are not available and the vehicles have been stopped in the parking
The black market is being enhanced day by day and the prices of vegetables and any other items have raised
Health assistants and volunteers are in demand, but many of them are not available in the hospitals and health centers, as they are likewise in fear of the illness
There has been the problem of electricity in some of the cities that have impacted the day-to-day life of the citizens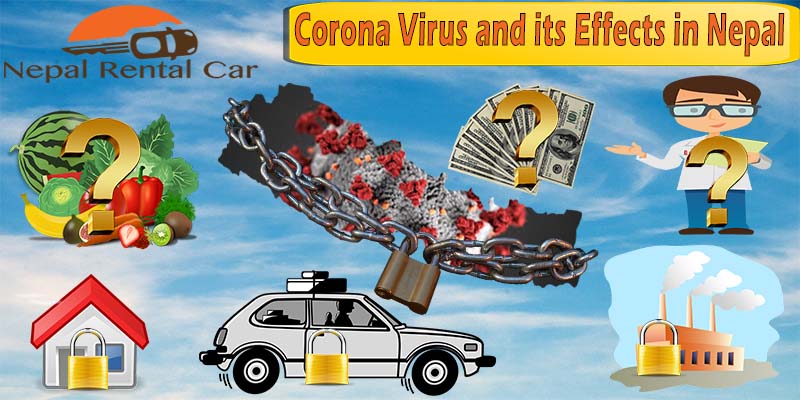 Safety Tips for Traveling
Some of the safety tips that one can implement for safety and as a precaution to be safe from the COVID-19, for and while traveling are as follows:
Travel in private vehicles only and do not prefer public vehicle, if you want to go anywhere out of the house
Always carry sanitizer, wear masks and gloves, and do not touch anyone as far as possible
Prefer "Namaste" – the Nepali gesture for greeting than shaking hands
Do not eat and drink from anywhere. You can carry your homemade foods and hot water with yourself and eat them. Remember to clean your hands properly with hand-wash (if possible), or sanitizer, before and after eating/drinking.
Cover your face with elbow line while sneezing and coughing
To not take your hand towards and in your mouth as much as possible
Already booked a Rental Cars?
Since the country, as well as the whole world, is going through this extreme pandemic, the service of Nepal Rental Car is also at a pause. Since you have already booked the vehicle with us for your travel to any destinations in Nepal; we offer the flexibility to change the time and destination for upcoming travels. It means, you can postpone the trip and go to another destination with Nepal Rental Car Service, and that too in no change at any cost. For this facility, you can stay connected with us and fix everything about the trip in detail. In order to converse with the NRC representatives regarding any changes to the reservation and any further inquiries, you can prefer the contact information as follows:
Contact Person: Shiv Raj Adhikari
Contact Number: +977-9841724847 [also active on Viber, Skype, and WhatsApp]
Nepal Rental Car is one of the leading vehicle renting service providers in Nepal with the facilities of single and multiple days' tours with well-accommodated vehicles and driver services, last-minute private occasion vehicle hiring such as picnics, weddings, seminars, etc. All the services are provided at the best and comparatively cheaper and reasonable prices in the transportation market. Recently, the services of NRC have been closed for a month because of temporary quarantine (lockdown) going on in the country and no one is able to move around from one place to another. But, our dedicated team members are and will be doing their work from home. So if any emergencies arise, you can surely contact us for fully private transportation as we are still available to support our clients. Also, let us ensure you that, for the prevention of spreading the virus, we have disinfected our vehicles with every possible measure that we could take and the driver will also be following preventive measures such as wearing masks and gloves, encouraging Nepali gestures 'Namaste' rather than handshakes, carrying sanitizers and disposable tissues, etc.
Please do not prefer public vehicles for transport, as there remains a crowd and it is very necessary to take minor precautions even after the lockdown is over. Traveling in mass or with an unknown populace can increase the chance of coronavirus risk, so it is suggested to have a group of your own family members and friends and be on the safe side. Doing so will minimize the risk and chance of spreading corona and its causes in the country.
After this quarantine, Nepal Rental Car will be back on track with an open heart through special offers and discounts on the packages and services presented by it, immediately this lockdown situation becomes over in the country. Stay ready for that too, folk.
Being a responsible service provider in Nepal, NRC suggests you take all the preventive measures possible and follow the Government rules and regulations.
But for now, we encourage – STAY HOME, STAY HEALTHY, AND FIGHT AGAINST CORONA PANDEMIC TOGETHER!