Nepal is a naturally beautiful country that is enclosed with high snow-capped mountains and a diverse landscape of lush greenery and exotic vegetation. Nepal is a hidden paradise for nature buffs and the adventurous souls who are looking for an escape from a hectic life to nature's lap. Kathmandu is not only the capital city but also one of the biggest cities in Nepal. Apart from being the adventurous paradise, Kathmandu is also home to the magnificent hidden waterfalls which are closed in among the deep George. Despite being rich in pleasant mountain climates and unmatched natural beauty, it has many hidden waterfall destinations that pleasure the traveler. There are many rivers, lakes, streams, cascades, etc which attracts the traveler very much but apart from that waterfall is also a reason that travelers travel to enjoy it.
Nepal Rental Car provides the best opportunity for vehicle hiring so that you can visit these hidden gems without any struggle. It is guaranteed as we offer private vehicles which will aid you to explore the places in a short period of time than in public transportations. The vehicles we provide are clean and well-maintained like a brand new and also provide professional, experienced, and fluent English-speaking drivers. This might be the plus point for your trip as there won't be any problem in communicating and you might get a lot of details about these hidden gems from the driver along with a comfortable and peaceful ride. We provide various vehicles for renting that include car, jeep, van, Hi-Ace, micro, buses, and many more with standard facilities to make your tour smooth and relaxing. To book or rent a vehicle easily as per your need, you can prefer the online medium through the website or call the authorized NRC representative personally.
There are many hidden waterfalls you must visit around Kathmandu Valley. Some are well known but some are not, so below given are the hidden water paradise around the Kathmandu valley that you must visit:
Jhor Waterfall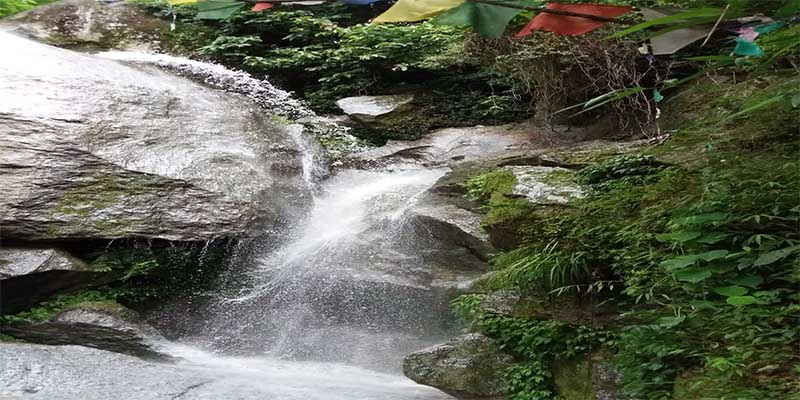 Jhor waterfall is one of the most popular waterfalls in Kathmandu valley. It is mostly famous among Kathmandu people which lies in Tokha, Mahankal. It lies on the border of Kathmandu and Nuwakot districts and water from Shivapuri National Park is the main source of this waterfall. Jhor waterfall is a tourist attraction place where many tourist visits to enjoy the waterfall. This place is also famous for the temple (Baundeshwor) situated in this place so while traveling to this place you can take double advantage of visiting the temple and enjoying the waterfall. The temple is not made by humans but it is formed naturally. The temple has its specialty as it is inside the cave named Baundeshwor Cave and has its history. Johor waterfall is also famous as a picnic spot for spending quality time with family and friends and can be visited on a certain budget. A trip to this waterfall is the chance to be in the midst of all that has been banished from the city- greenery, tranquility, field, forest, and many more. You can visit this place in private vehicles, hike, or do a bicycle ride. As the surrounding is growing rapidly there is plenty of option that you can choose as per your need. To make a booking of the rental vehicle in order to explore this hidden paradise of Nepal – Jhor Water, you can prefer the link as follows. Click Here
Sundarijal Waterfall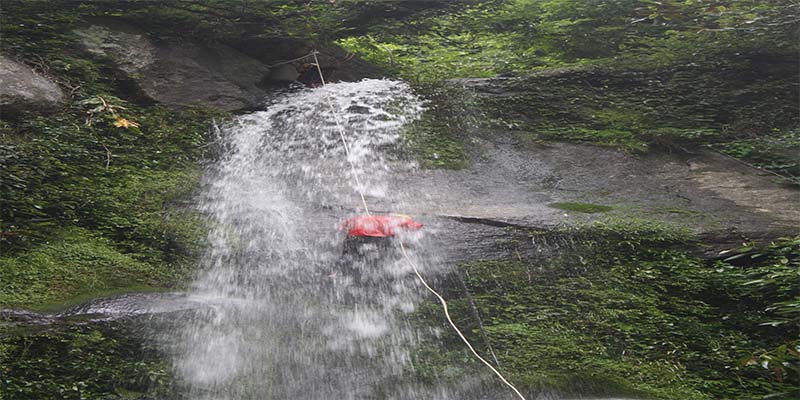 Sundarijal is 17 kilometers northeast of Kathmandu Valley which is also called 'beautiful water'. Sundarijal is a famous water paradise in Kathmandu, Nepal. The tiny village is the gateway to Shivapuri National Park as well as for popular Kathmandu Valley Trekking. This water paradise is very famous for the adults and teenagers for day hiking, swimming, enjoying the waterfall, picnic, and biking from where you will see stunning Kathmandu valley and beautiful Tamang village called Mulkharka. The most two famous activities performed by the tourist and locals are swimming and canyoning in the waterfall. But canyoning is advised to perform with experts as it might be hazardous without an expert guide. Other than that, many people visit this place for enjoying the waterfall and bathing in the spring water and some religious people visit this place because there is a temple of (Sundari Mai) which means goddess of beauty and there is a belief that if we wash our face with the water of this place then we would become beautiful. This place is getting popular due to this waterfall and also pure water from Baghdwar the starting point of the Bagmati River. You must visit this place once when you are in Kathmandu. For booking the private vehicle, you can refer to Nepal Rental Car with the link given right here. Click Here
Simba Falls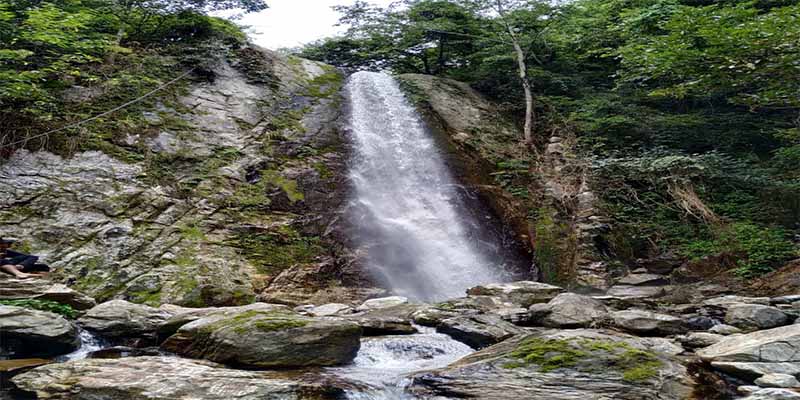 Simba falls is situated in Manikhel which is a combination of more than 5 different small waterfalls. Manikhal village is a rural yet authentic village which is located approximately 40 kilometers away from Kathmandu. It is a Tamang village located on the top of the hill which is at an altitude of 2000 meters above sea level. The view from the top is amazing and due to the Simba Falls, this village is becoming popular day by day. The water of this waterfall is always cold so it is named Simba Waterfall in Tamang Language which is a beautiful waterfall. To reach this place, one has to walk about 45 minutes to one hour from the last vehicle stop to enjoy the stunning waterfall. As this waterfall is situated in peaceful and green surroundings, the person who likes to spend time with nature will love this place instantly. The waterfall and greenery in this place are so pure that you will forget all the worries and sorrow and you will feel delightful and joyous. So, one must visit this place once in a lifetime when they are in Kathmandu. For hiring a private vehicle with NRC to reach this awesome destination, refer to the link right here. Click Here
Kageshwori Jharana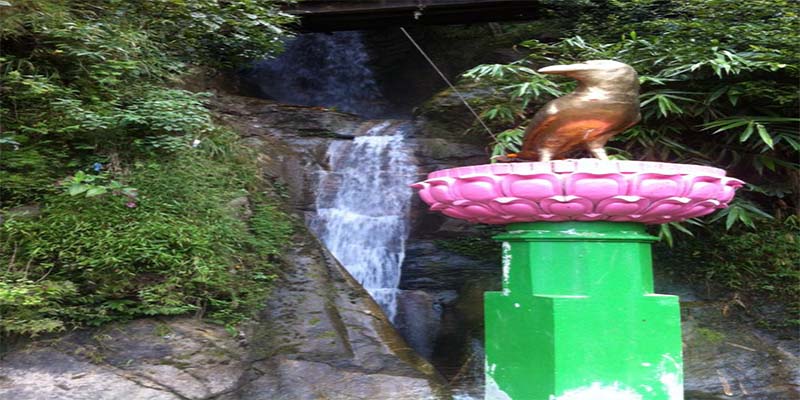 Kageshwori is a religious place which is located 25 kilometers northeast of Kathmandu, the capital city of Nepal. Kageshwori is the combination of two names that is Kag which means crow and Ishwori which means god. Crow is worshipped because the crawling of crows symbolizes sadness and grief and it is also believed that crow is the messengers of the god so devotees worship crows and offer delicious food. There is a statue of a crow in this temple and many people come to this place to worship crow mainly in Tihar. Apart from all this, there is a magnificent waterfall located in this place which is not popular among the people but it's stunning and eye-catching. The surrounding is peaceful and greenery. The nature lover will adore hanging around this place and will be cheerful seeing the waterfall. So you must visit this place when you are in Kathmandu. For renting the private vehicle with NRC to go along the Kageshwori waterfall, you can prefer the link mentioned right here. Click Here
Nagarkot Waterfall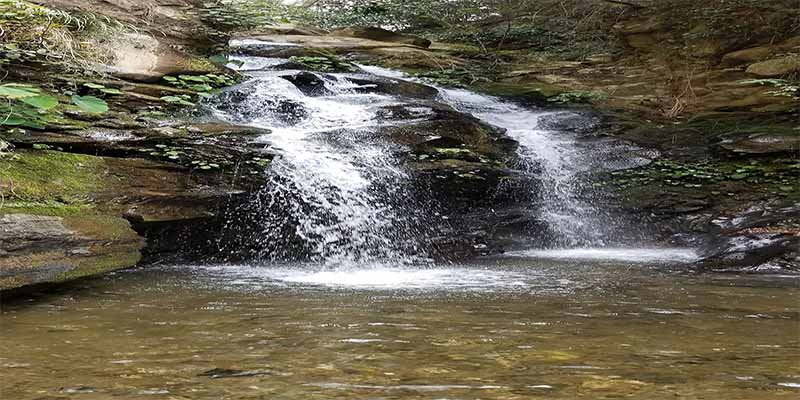 Nagarkot is only 25 kilometers away from Kathmandu but upon reaching there you will feel like you are in another world. The way to the place is bumpy but after reaching there, you will feel worthy of traveling along such roadways. Crisp air, lush green hills, birds chirping, and waterfall will make you happy and your mind peaceful. You will see the stunning view of the valley from Jalpadevi temple even during the monsoon season. After a short period of hiking from that place, you will see a magnificent waterfall. The waterfall is breathtaking. It is a hidden gem and it feels like paradise is all for ourselves. The water is chill but seeing the waterfall will make your mind peaceful and relaxing. The dense forest, lush greenery, and waterfall will make your trip to this place worthy and memorable. So you must visit this while you are in Kathmandu. For rental car reservations with the NRC team, you can go through the link right here. Click Here
Nepal Rental Car presents various vehicles for hiring like a car, jeep, van, buses, etc to aid your tour to Hidden Water Paradise around Kathmandu Valley become more prominent and memorable. The vehicles provided by our company are clean and well furnished. You can choose a vehicle according to your choice and need. We not only provide well-maintained vehicle but also a proficient and qualified drivers with fluent English speaking knowledge about the places. This will be beneficial for all travelers as there won't be any problem in interacting and they will gain knowledge about the place as well. Nepal rental car provides standard facilities along with renting vehicle services in reasonable and also guaranteed the best price possible in comparison to other companies. So this might be a double bonus for you as you will get a luxurious vehicle along with a qualified driver with the best facilities. So, book your luxurious vehicle from Nepal Rental Car and enjoy your tour of Hidden Water paradise around Kathmandu peacefully and comfortably.
Our contact number is +977 9841724847 and it is available on WhatsApp, Viber, Skype, and WeChat as well. Feel comfortable uniting with us. We are just a call away from proving you with the best car rental service in Nepal.