'Kathmandu Sahar, Herda Lagcha Rahar', this popular phrase fits splendidly for Kathmandu. Kathmandu is the capital city of Nepal encircled with hundreds of tourist places attracting traveler from all around the world. There reside more than hundred tourist places in Kathmandu. Although it is filled with a population of around 1 million people. Kathmandu shelters one and the only international airport of Nepal too. Because of this also, all the international tourists step in Nepal at Kathmandu first and then move forward to other destinations. The multiple tourist places in Kathmandu primarily remain as major magnetism of Kathmandu as well as the whole country.
Kathmandu is the eldest metropolitan city of Nepal. This city is the urban heart of the Kathmandu Valley in the Himalayan country Nepal. It also comprehends two sister cities that are Patna or Lalitpur. Kathmandu City is a steward of its hereditary value "Atithi Devo Bhava" signifying "Visitor is equal to God". Traveling in Kathmandu and it's majorly tourist places is traveling into another world that everybody should experience once in a lifetime. Tourist Places in Kathmandu is a result of assorted culture and way of life, a long history of confidence and convictions, and of arts and structural design. In this manner, something other than a city, Kathmandu is a living gallery; it is a chance to go back in time and to remember the history.
1. PASHUPATINATH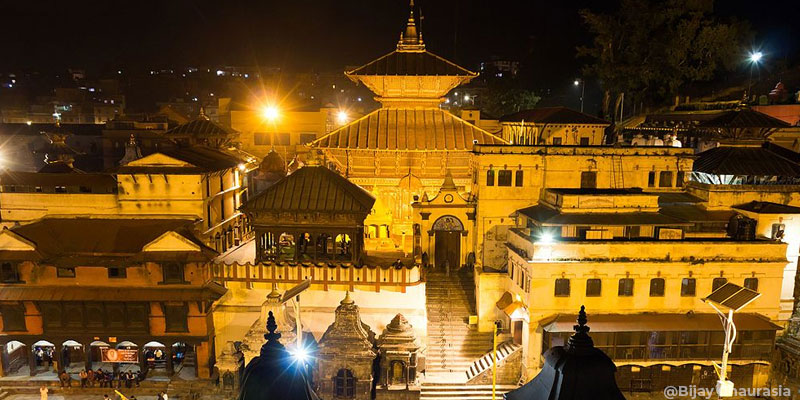 Pashupatinath temple is one of the most prestige's Hindu religion temples of Nepal, typically known as one of the highly admired tourist places in Kathmandu. The temple is the signification of Lord Shiva. People come here to worship Lord Shiva from different places in the world. It lies in the river bank of Bagmati River. Every year this temple attracts lots of people from younger to elder as well. It is a temple with an exceptional environment of death; passing is available in pretty much every custom and each edge of it. Only Hindu people can enter the main temple, but all the other subsidiary parts of Pashupatinath are available for foreigners to visit. It is likewise exceptionally regular to meet Sadhus in Pashupatinath. You can see lots of monkeys and deer in Pashupatinath. Pashupatinath temple also listed in UNESCO World Heritage Site. Many people come to celebrate Shiva Ratri in a grand way because it is a festival of Lord Shiva. The regularly held dusk Aarti is also the major lure of Pashupatinath temple.
2. SWAYAMBHUNATH STUPA (MONKEY TEMPLE)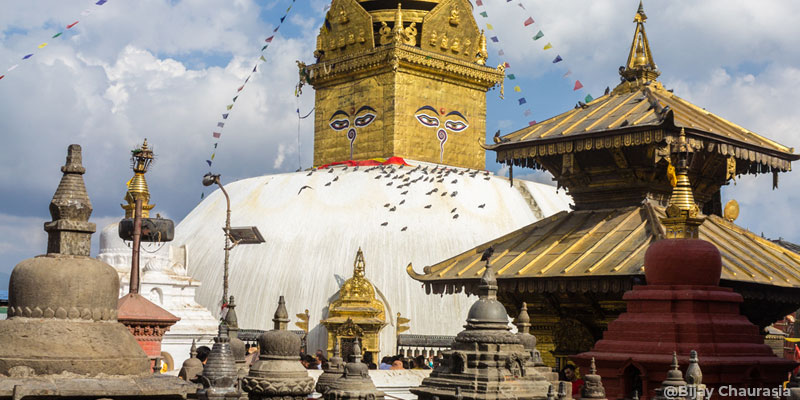 The Swayambhunath Stupa is one of the delegated wonders and most renowned tourist places in Kathmandu Valley design. About 2500 years of age, Swayambhunath Stupa is otherwise called 'Monkey Temple'. The exacting importance of Swayambhu is 'self-made' or 'self-existent'. This is the most established and most visited stupa by Buddhist Monk from everywhere throughout the world. It is the leading Buddhist shrine of Kathmandu as well as of whole Nepal. On the west, there is the principal entrance door from where you can see three monstrous statues of Lord Buddha. There are 365 stairs which will without a doubt lead you to otherworldly illumination with the perspective on Sleeping Buddha statue. From the front side of the stupa, you can get the standpoint of Kathmandu city. On the western side of Stupa, there is a little counterfeit wellspring and lake. There is a pattern of flipping a coin and on the off chance that the coin is set in a plate at that point, it is taken as good karma.
3. KATHMANDU DURBAR SQUARE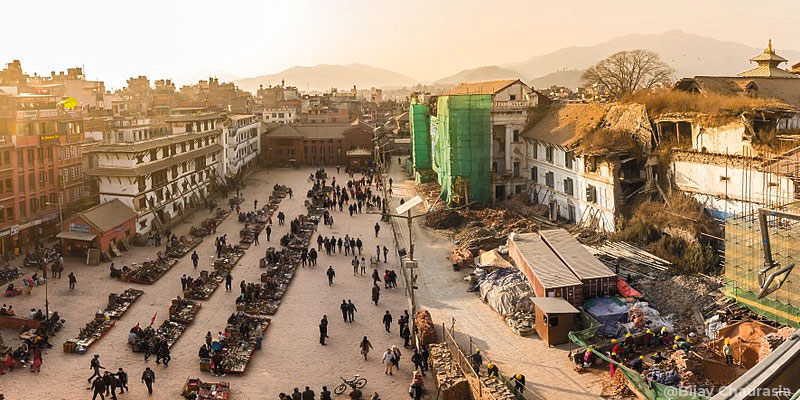 The most noteworthy square in all Kathmandu is celebrated for its shocking Newari sanctuaries and royal residences. A section of those structures date from the fourteenth century and was initially worked as a major aspect of a complex of imperial functions. Today the square is an enthusiastic spot where local people blend with the curious traveler. Although some part of the square was demolished among the earthquake a portion of these structures is still in great condition. You can find numerous monuments with historic and ethnic belief inside durbar square like Taleju temple, (which is merely open throughout Navami of Vijaya Dashami), Hanuman Dhoka, Kumari Chowk, the bell. There is an antique temple 'Jagannath' with the erotic figurine. Those artifacts show boys and girls fulfilling the human need 'Kamasutra'. You can sight the European style building 'Gaddi Baithak' built by Ranas in 1908. A gigantic sculpture of Kal (black) Bhairav with a terrifying look and six arms has become an attracting portion. All these standing characteristics kind it unique among numerous tourist places in Kathmandu.
4. BHAKTAPUR DURBAR SQUARE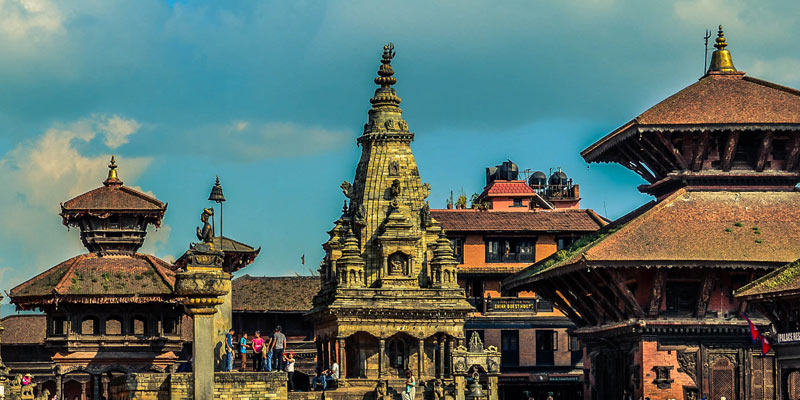 The old urban of Bhaktapur, situated just a few kilometers from Kathmandu, is well-known for the variety and height of its impressive temples. Bhaktapur Durbar Square is also one of the UNESCO World Heritage Site and most alluring tourist places in Kathmandu. It is regarded as the residence of traditional Nepali culture, custom and exclusive arts of wooden and potteries. The historical monument on around signifies medieval age ethnicity and ritual of Nepal and this old city is inhabited by original Newari people in the large group. The major eye-catching monuments are Nyatapola Temple and the Nyatapola means five stories (the representative of basic elements), the statue of King Bhupatindra Malla, Peacock Window, Golden Gate and fifty-five windowed palace of Bhaktapur Durbar Square.
5. PATAN DURBAR SQUARE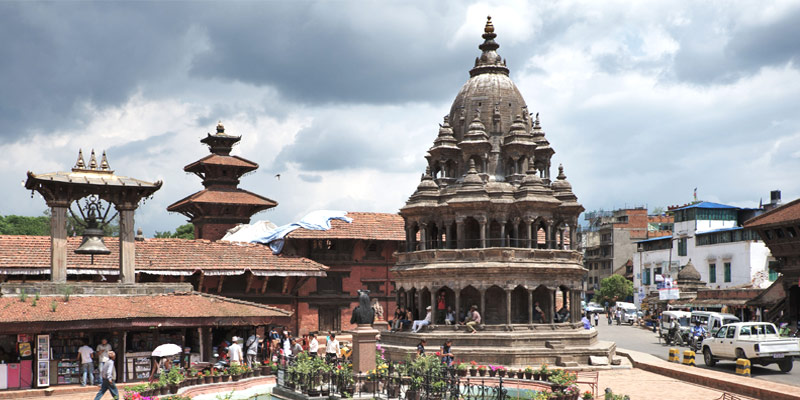 Isolated from Kathmandu by the Bagmati River, Patan is the second biggest city in the valley. Patan Durbar Square is an awesome spot (recognized as singular among multiple awe-smacking tourist places in Kathmandu) which you can't miss amid your visit to Nepal. Indeed, even after the earthquake also, the square flaunts the absolute best royal residences and temples around the country. It is the third largest city of Nepal after Kathmandu and Bhaktapur respectively. This city is well-known for Newari culture and Jatra. The mainly symbolic buildings are the Golden Temple, the octagonal Krishna temple and the Shankar Narayan temple with two elephants at its entrance. One of the finest places to visit in Kathmandu! The famous Patan Museum exhibits sculpture and copper statues of gods from both the Buddhist and Hindu ethnicity.
6. THAMEL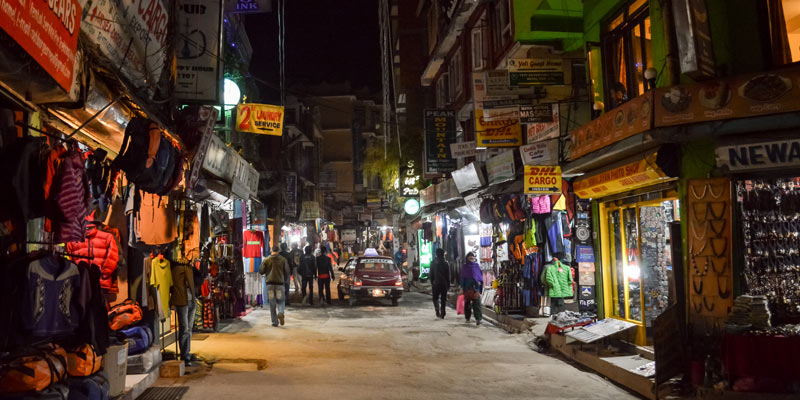 Thamel is a business neighborhood situated in Kathmandu, the capital of Nepal. Thamel has been the focal point of the traveler business in Kathmandu for more than four decades, beginning from the hipster days when numerous specialists came to Nepal and invested a long time in Thamel. Getting into Thamel is simple as any cabbie will know precisely where it is. It is around a 20-minute taxi drive from Tribhuvan International Airport or around a 15-minute drive from the city transport station. This is the curious midst many gorgeous tourist places in Kathmandu you can't miss while traveling to Nepal. The streets of Thamel are enthralling. It is the best place to do shopping as well, you will find everything here. The best also available in Thamel but the nightlife of Thamel is something no one can't miss and forget.
7. BOUDHANATH STUPA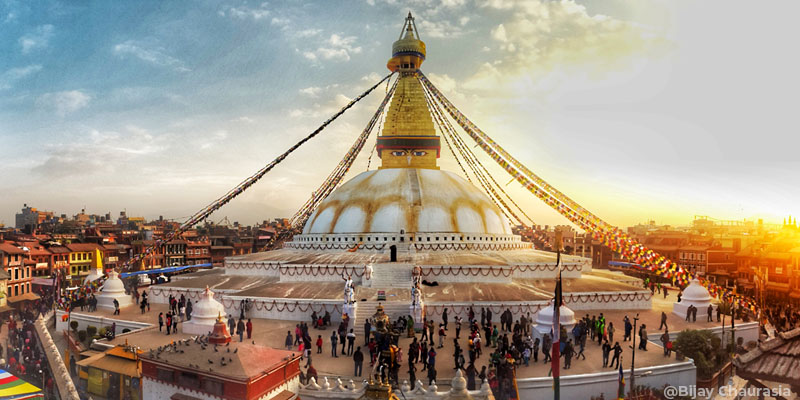 Bouddhanath Stupa is one amongst the most imperative tourist places in Kathmandu and a unique structure Stupas within the world. Though this is a Buddhist monument there is no religious boundary for visitors. With a distance across of 120 meters, Boudhanath Stupa is the biggest stupa in Nepal and a vital site of the journey for several Buddhists. Found only 7 kilometers from Kathmandu, the stupa was allocated UNESCO World Heritage Site in 1979. This spot has an untouched Himalayan culture with a solid nearness of Tibetans, Sherpa's and Buddhist priests and nuns. It is the most consecrated spot for Tibetans outside Tibet. Picture-perfect eyes between stupa also known as 'wisdom eyes' indicate omniscience of Lord Buddha. Although a little damaged during the earthquake, it seems to have been rebuilt effectively with the same beauty of stupa.
8. TAUDHA LAKE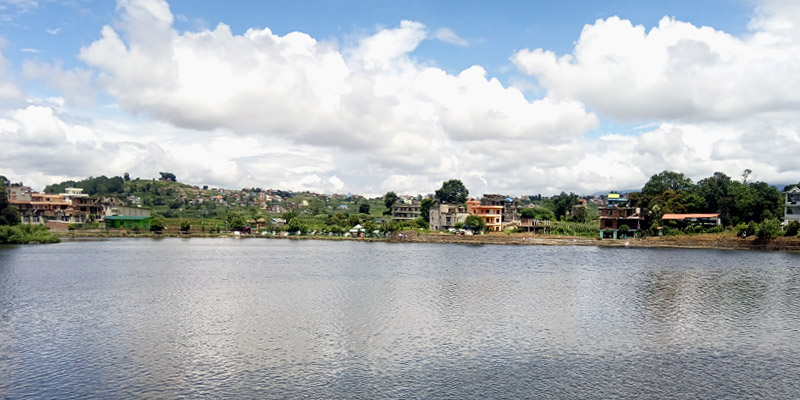 Taudaha Lake is a small and very beautiful lake in the outer edge of Kathmandu. The name comes from a mixture of Newari words 'Ta', meaning snake and 'Daha', which means lake. Taudaha Lake is the perfect place to have a peaceful moment for you or with your friends and family. Because of this serenity, Taudaha Lake is marked as one of the nice-looking tourist places in Kathmandu. With an inappropriately lonely tree in the middle of the large water pool, Taudaha also has a variety of fish and traveling birds. Taudaha Lake, somewhere in the range of 6 km southwest of Kathmandu, not only holds cultural significance but is also important for its rich assortment of flora and fauna. According to experts, it is the valley's only solitary natural lake that still serves as an atmosphere for a significant number of wetland birds and so is precious from the biological point of view. People don't swim there and the visitor can see lots of different types of fishes in the lake.
9. NARAYANHITI PALACE / MUSEUM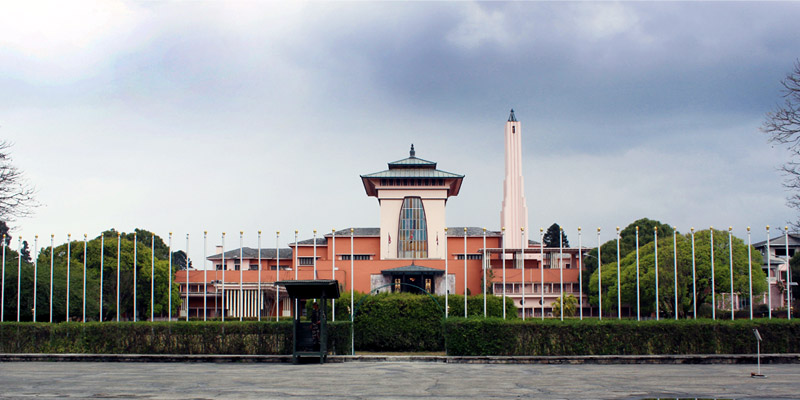 Narayanhiti Palace Museum (Durbar) is a Royal palace located in Kathmandu. This fortress was the center of state occasions and royal hospitality. When Nepal ceased to be a monarchy in 2008. The Narayanhiti Palace was turned into a museum then and was made open to the public. Because of the extreme beauty, it is listed as the must-visit tourist places in Kathmandu. Now everyday Nepali people, as well as people from all over the world, can get the possibility to look at the Narayanhiti Palace Museum. The Narayanhiti Palace Museum has fairly a lot of meaning to the history of the people of Nepal. The word Narayanhiti has been derived from two origin words "Narayan," a type of the Hindu god Vishnu (whose temple can be found just across from the Palace) and "hiti," which means water spout. A visit to the Narayanhiti Palace Museum will provide anyone with a chance to see many prized belongings of important historical significance.
10. CHHAUNI MUSEUM (NATIONAL MUSEUM OF NEPAL)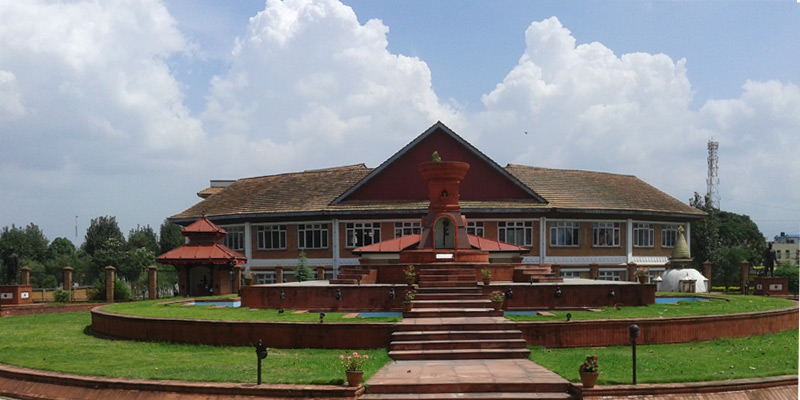 The Chhauni Museum of Nepal is a popular attraction of the capital city of Kathmandu. About a century old, the museum stands as a tourist purpose and historical symbol for Nepal. The museum was originally named Chhauni Silkhana; literally meaning 'the stone house of arms and ammunition', and is still famous by the name of Chhauni museum. One of the most well-liked museums in Kathmandu, Chhauni museum has amazing historical collections and is divided into three main historical collections, each housed in a divided building. The museum has a great collection of historical things like the second-century coins, stuffed animals and the weapon of 1934 earthquake. One of the most attractions of the museum is the leather cannon that are related to the Tibetan war period that took place in 1792. Visitors can the past period weapon also.
11. SUNDARIJAL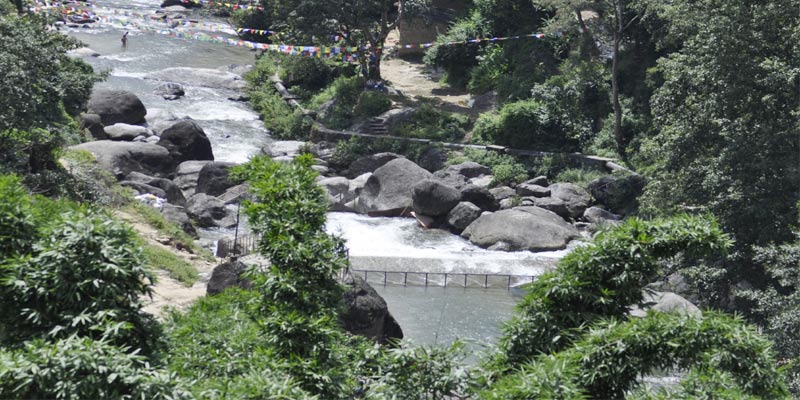 Sundarijal is one of the amazing places marked as unique among lots of tourist places in Kathmandu, Nepal where one can have wild dash and trekking information. It is arranged only 25 kilometers from the Old Bus Park. The place is named as Sundarijal after a river which serves as the main basis of attraction for the public here. This river has complete many carvings on the stone which is a famous sight to see here. The place also enshrines the Sundarimai Temple at the side of the waterway, to where, throughout the jatras, people walk barefoot from Pashupatinath to collect the sacred water from the river and again back to Pashupatinath to present it to Shiva Linga. This ritual is believed to be practiced for looking for forgiveness for all the sins done by the worshippers. The place provides the most beautiful view of Kathmandu and the presence of lots of waterfalls.
12. THE WHITE MONASTERY (WHITE GHUMBA)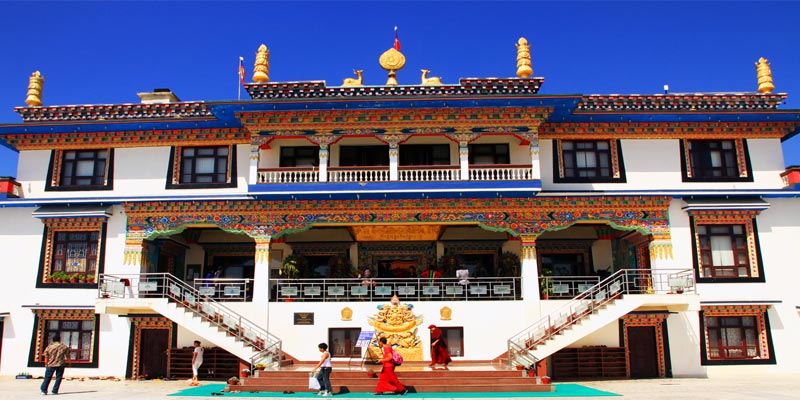 The White Monastery is also known as Seto Gumba/White Gumba amongst the Nepalese. It is a Buddhist monastery of Nepal which is arranged at the highest point of Druk Amitabh Mountain. It is situated at Nagarjuna region of Kathmandu District. It is situated outside the ring street north of Swoyambhu Nath sanctuary. Seto Gumba is an artistic site full of natural attractiveness, Tibetan structural design & culture. It is surrounded by the green-gorge. The charming scenery of White Gumba is remarkable that attracts the visitors to it. The part around the White Monastery is very peaceful and quiet, one can visit it for meditation practices and as well for learning about Buddhism. Because it lies at the top of the hill we can view the stunning view of Kathmandu valley from Seto Gumba. If the weather is clear you even can sight the spectacular view of the mountain range. This is known among the second best tourist places in Kathmandu to see the sunrise view in Kathmandu after Nagarkot.
13. NAGARKOT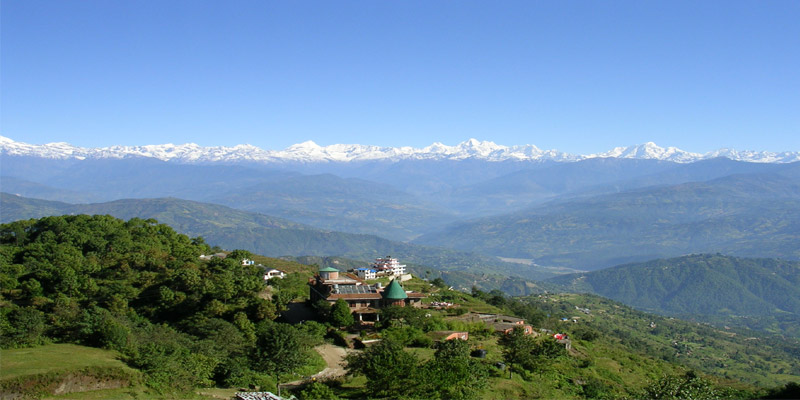 Nagarkot is one of the most popular tourist places in Kathmandu. This touristic destination is the favorite weekend gateway among those in search of Mountain View in comfort and calm. This is the best place to see the sunrise view in the early morning. That's why almost everyone goes there in the afternoon and stays there in the hotel and get up early morning to see the beautiful sunrise with the beautiful views of the mountains. Nagarkot is considered to be the best place for mountains views around Kathmandu. The views go from Dhaulagiri to Kanchenjunga. It the view and weather are clear then you can see the Mt.Everest, Manaslu, Ganesh Himal, and Langtang as well. There is a lookout tower south of the township where you can get a 360º view of the landscape. Nagarkot is the place of full of nature and peace.
14. OSHO TAPOBAN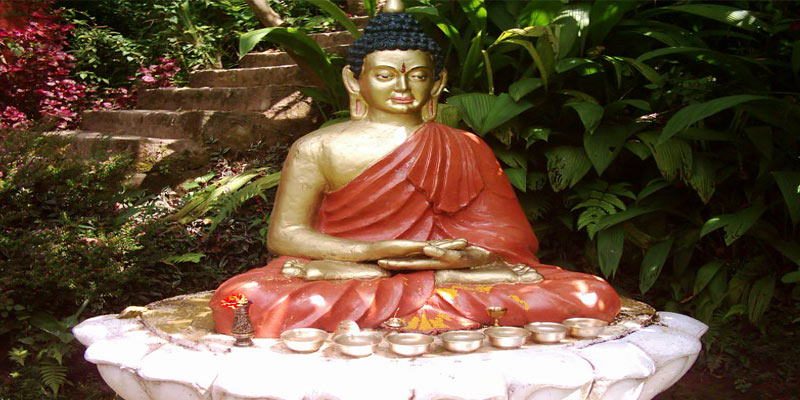 Osho Tapoban is an international cooperative and forest retreat center. On the edge in the lush green Nagarjuna forest, the community offers various courses on yoga, meditation, psychotherapies and alternate healing as designed by Osho. This forest marks the symbol of internal peace and external satisfaction. Here, most of the tourist visits for having peace of mind. Because of this, Osho Tapoban is known as one of the high-rated tourist places in Kathmandu. The commune welcomes more than eight hundred visitors from ninety different countries every year and provides a chance for a new way of living a life with more awareness, sensitivity, leisure, carnival, and creativity. Many options for self-exploration are obtainable throughout the year in the form of meditation camps and therapies. You can visit here for your peace of mind and for your health. The visitor also can see the Rajneesh Dhyan Mandir, Osho Samadhi, Sculpture Garden, Flora & Fauna, and Shivapuri baba silent temple.
15. NEPAL ART COUNCIL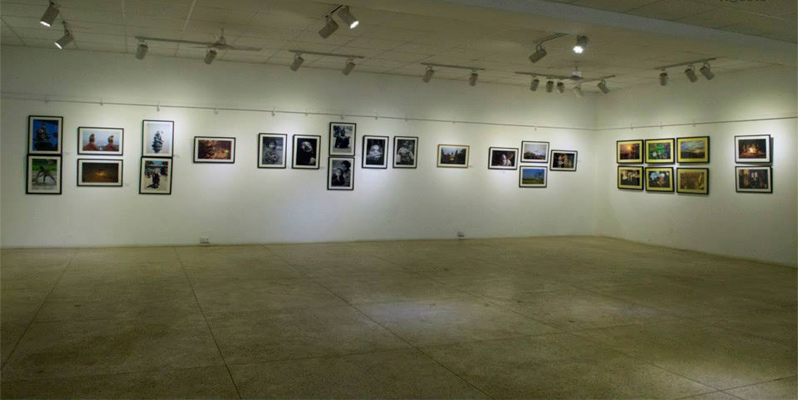 Nepal Art Council built up in 1963 under the chairmanship of Kirti Nidhi Bista, the committee shows both national and international works of art which are both customary and modern, and is resolved to expand its viewpoints of nearby workmanship darlings. At first, it was just a solitary room situated in the Road Department's Office yet today, it has its very own structure that was built in 1991. The council on a regular basis conducts a variety of excellent exhibitions in its huge exhibition area and attracts all people who love arts and want to know about it. It is a government association which offers the chance to become more familiar with the art world. It holds regular art exhibition slightly than focusing on art sales and supporting a permanent gallery. The gallery might mark a variety of local art or focus on the art from one particular nation or enjoy a combination of both in its large and wide exhibition area. For its alternative of exhibitions held here, the gallery has gained an international reputation for exhibition brilliance. Holding a remarkable edition of art and architecture, Nepal Art Council stands as one of the most visited tourist places in Kathmandu.
Nepal Rental Car advances every visitor in Nepal with luxury cars, jeeps, vans, and other vehicles. All the places in Nepal (whether it is Kathmandu or outside) can be reached using these luxury vehicles at estimated costs and services. All these tourist places in Kathmandu can be rounded as well. Unite with us and aid yourself in enjoying beautiful tourist places in Kathmandu as well as in whole Nepal. Feel free to contact us! Namaste!