Famous temples in Nepal, coming to this query in mind is the appreciable thing though. Nepal is one of the most beautiful countries in the world full of natural, cultural, and historical resources. When people travel to Nepal for holiday, the best famous temples in Nepal can give them full honor. With their beauty, aesthetic values, historic appearance; they, of course, acquire full-fledged enjoyment and also get more than they expect. Nepal is a very rich country in culture and traditions. People can see a different type of religions with different kinds of people here. In Nepal, there are lots of temples built in different years and centuries. Every temple has its significance and they all are holy as well. You can visit these temples and know about them as well. Here top fifteen famous temples of Nepal are mentioned which has much more significant values and offerings towards their visitors and admirers.
1. PASHUPATINATH TEMPLE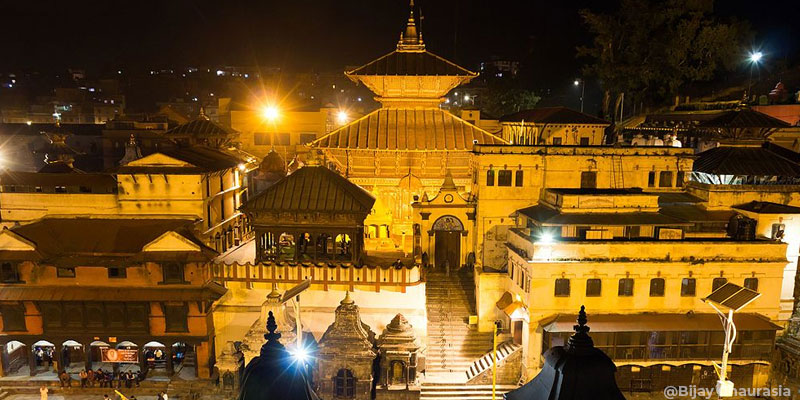 Pashupatinath temple is one of the famous temples in Kathmandu valley. This is the most visited religious site by Hindus. Temple alongside Bagmati River is a flawless view. Despite being the temple of Lord Shiva Mahadev, Hindu deity of any religion visit this famous temple of Nepal once in their life. You can see lots of monkeys and deer in and around the Pashupatinath area. Pashupatinath temple is also listed on the UNESCO World Heritage Site List. Many people come to celebrate Shiva Ratri grandly because it is a festival of Lord Shiva. If you don't manage to attain 'Evening Aarati' after visiting Pashupatinath then it will be like overlooking dessert after a yummy food. Priests chanting Lord Shiva's mantra during Aarati leave anyone awestruck. Sadhus with ash scrubbed body, Rudraksha garland, reciting Shiva's hymn welcomes anyone with any religion is the most pleasing scenario. Pashupatinath Temple is encircled by other shrines. Shrines around Pashupatinath are Surya Narayan, Kritimukh Bhairav, Unmatta Bhairav, Budhanilkantha, Vasuki Nath, Hanuman shrine, 184 Shivlinga and many more. All these marking beauties and attractions aid this temple to be number one in the list of top most famous temples in Nepal.
2. MANAKAMANA TEMPLE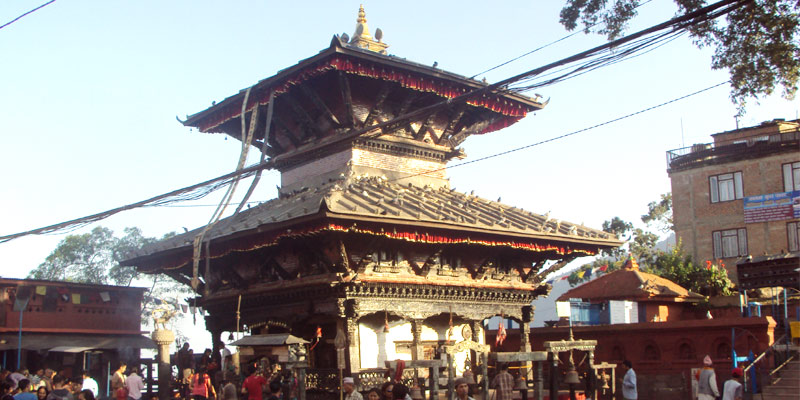 Manakamana is also another among the countless best famous temples in Nepal. This Hindu temple is located in the Gorkha district of Nepal. It is the temple of Goddess Bhagawati, the personification of Devi Parvati. Manakamana also has origin Mana means 'heart' or 'soul' and Kamana means 'wish'; so it is called Manakamana. It is situated 106 km far from Kathmandu district. People believe that whatever you wish in Manakamana, it will be fulfilled by the goddess and those wishes come true. So they go there to make and fulfill their wish (Bhakal). This tradition is going on since the 17th century. We can reach the main temple with the help of a cable car. It takes around only 10 min by cable car to cross Trishuli River and reach the place. Everyone has to buy a ticket to travel from a cable car. Almost every married couple go there to take blessing for their new life and some of the couples go to be blessed with children in their life.
3. DANTAKALI TEMPLE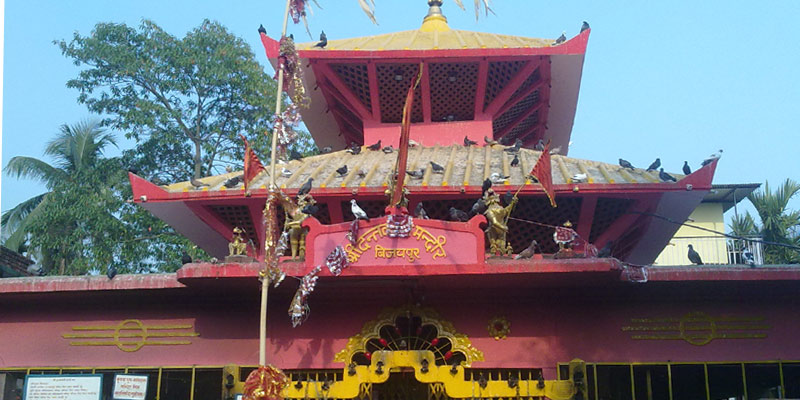 The Dantakali sanctuary is likewise the standout amongst the best sanctuary of Nepal. Elderly folk's individuals or legend has informed that it was set up when a tooth of Sati Devi fell here when Shiva was conveying her passing body staying here and there. 'danta' means 'teeth' and 'kali' is the type of 'sati '. So it is called Dantakali sanctuary. It lies situated in the center hilchowk of Vijaypur in Dharan.
4. CHAGUNARAYAN TEMPLE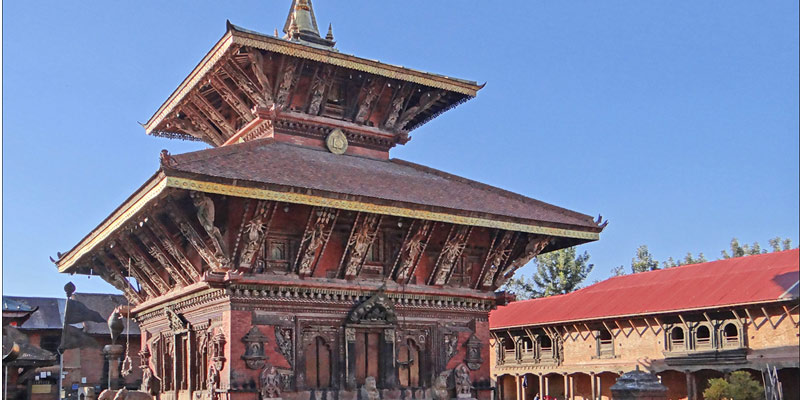 The peak sanctuary of Changu Narayan found 4 kilometers north of Bhaktapur, is the most established Vishnu holy place in Kathmandu Valley. Established as ahead of schedule as 325 AD, it is a standout amongst Nepal's most wonderful and truly imperative structures. Reconstructed in 1702 next to its destruction by fire, the two-storied sanctuary has many numerous carvings of the ten incarnations of Vishnu and dissimilar multi-armed Tantric goddesses. Changu Narayan's actual jewels, be that as it may, are the Lichhavi time frame (fourth to ninth hundreds of years) stone, wood, and metal carvings in the courtyard surrounding the main temple. This, one of the extraordinarily carved and famous temples in Nepal, Changu Narayan Temple is one of seven structures referred to by UNESCO as exhibiting the notable and masterful accomplishments that make the Kathmandu Valley a World Heritage Site. People can walk around to see the other beauty of that place as well.
5. DAKSHINKALI TEMPLE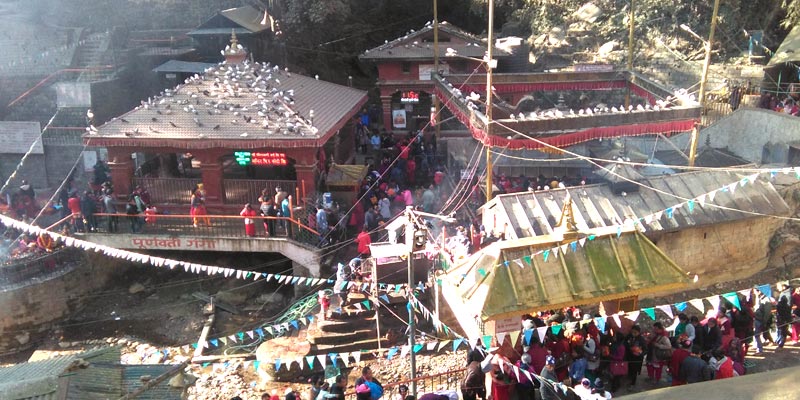 The Dakshinkali temple is one of the holiest and famous temples in Nepal. This temple is dedicated to the powerful goddess Kali. Dakshin is known as south and Kali is gotten from Hindu goddess Kali which is notice above with the goal that it essentially means the goddess Kali of the south. This Dakshinkali sanctuary is found in the southwest piece of Kathmandu. This place is forty-five minutes' drive away by vehicle from Kathmandu. The haven and its encompassing region are committed to goddess Kali. By the way, the view of the fine way between mountains is attractive. It is more valuable to walk down and across the old postponement bridge, throwing a momentary look down into the very narrow and deep gap. In the center part of the village of Pharping, there lies an enjoyable spot is known as Sheka Narayan. There is a pond full of crystal clear water and lots of goldfishes swimming in the pond. After a few minutes of driving from Pharping, you will finally arrive at the destination that is Dakshinkali Temple where you have to move downhill as the goddess is located at the bottom of the hill.
6. BUDHANILKANTHA TEMPLE
Budhanilkantha Temple is located nearby Shivapuri hills, at the end of Kathmandu city. This temple is made in respect of Lord Vishnu. There, people can see the sleeping status of Lord Vishnu. It is the biggest and most wonderful stone cutting in all over Nepal. It is likewise the most mysterious. Carved from a solitary square of dark basalt stone of obscure birthplace, the Budhanilkantha statue is 5 meters long and it lies in a leaning back position inside a recessed tank of water (speaking to the vast ocean) that is 13 meters long. Called the Sleeping Vishnu, or Jalakshayan Narayan, the statue portrays the god leaning back on the turning curls of the inestimable snake (Shesha is the unceasing, multi-headed lord of the snake gods known as Nagas, and is the hireling of Vishnu. Vishnu's four hands hold protests that are images of his celestial characteristics: a chakra or plate (speaking to the psyche), a conch-shell (the four components), a lotus bloom (the moving universe) and the club (primitive learning). These unique characteristics and extra-ordinary appearances have made it (Budhanilkantha temple) one of the famous temples in Nepal.
7. SWAYAMBHUNATH STUPA (Monkey Temple)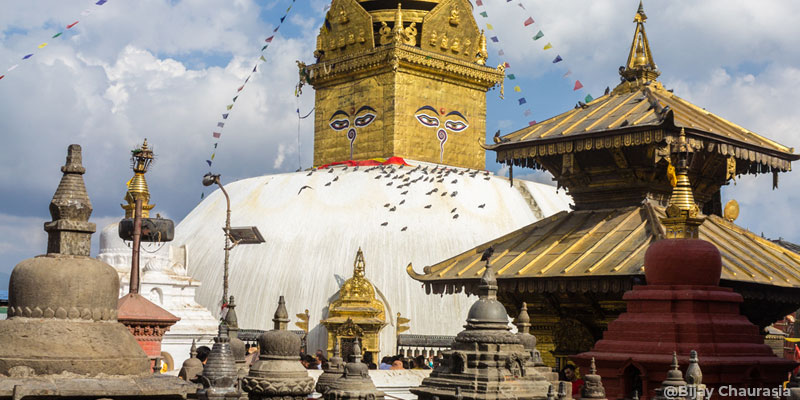 The Swayambhunath Stupa is one of the designated miracles of Kathmandu Valley structure. Around 2500 years old Swayambhunath Stupa is generally called 'Monkey Temple'. The demanding significance of Swayambhu is 'independent' or 'self-existent'. This is the most settled and most visited stupa by Buddhist Monk from wherever all through the world. On the west, there is the rule entrance entryway from where you can see three huge statues of Lord Buddha. There are 365 stairs which will point of fact lead you to supernatural brightening with the viewpoint on Sleeping Buddha statue. From the front side of the stupa, you can get the point of view of Kathmandu city. On the western side of Stupa, there is a little fake wellspring and lake. There is an example of flipping a coin and in case the coin is set in a plate, then it is taken as great karma.
8. MUKTINATH TEMPLE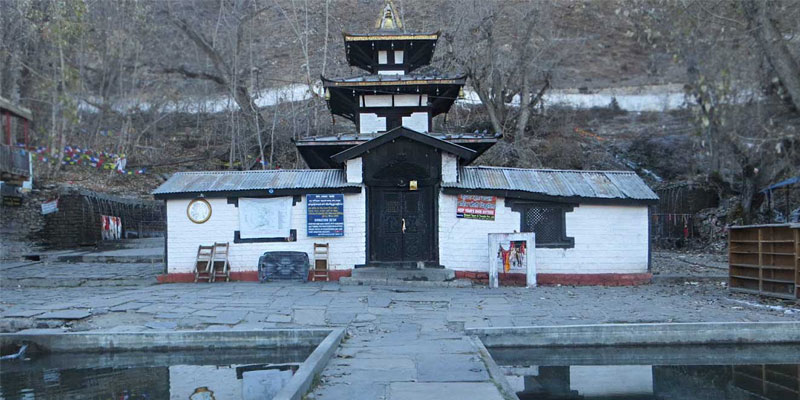 Located at the lap of Himalayas, Muktinath temple is one of the holiest and Nepal famous temple. Despite being a temple of Lord Vishnu, a Hindu god, this famous temple in Nepal is admired by the Hindus and Buddhists equally. Due to its recognition as the temple located at the highest altitude (about3800 meters from Sea Level), every year nearly 17 thousand people visit there in the on-seasons like autumn and spring. Winter cannot be missed (in winter climate remains cooler than ever but also many visitors do not fade). There are two holy ponds in the front part of the main temple. These ponds are also known as 'Mukti Kunda'. According to Hindu myth, there is a belief that Hindu devotees will get nirvana after taking a bath in those waterspouts and holy ponds. The peculiar underground blue flame which is known as the goddess of flame or 'Jwala Mai' is another dazzling aspect of Muktinath temple. Muktinath temple is 377 km far away from Kathmandu. Visiting Muktinath is considered an exciting journey with the name Muktinath Tour or Muktinath Yatra (in the Nepali language).
9.

GUHYESHWARI

TEMPLE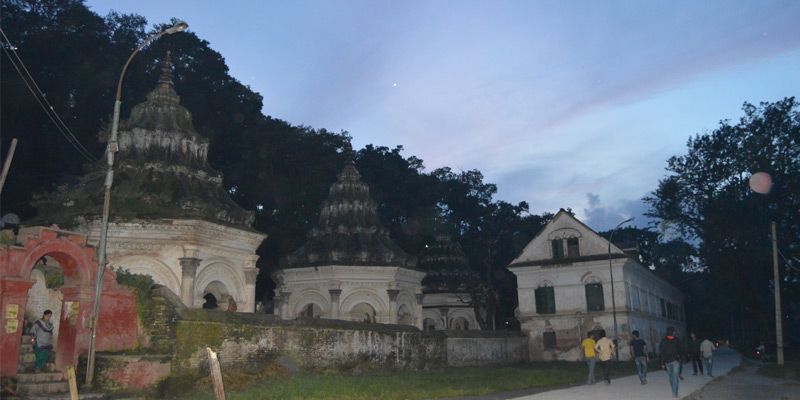 Guhyeshwari Temple has an exceptionally loved journey goal for the Hindus just as the Buddhists. Situated around one kilometer east of the fundamental Pashupatinath Temple, it is a standout amongst the most significant sanctuaries inside the Pashupatinath zone. Perceived as a Shakti (control) Peetha, it is considered as an image of intensity. It is trusted that a body some portion of Sati Devi (spouse of Lord Shiva) fell after her demise at the very spot where the sanctuary is currently found. This sanctuary was worked by King Pratap Malla in the seventeenth century. Pashupatinath and Guhyeshwari are delightful portrayals of the Shiva and Shakti solidarity. Situated at the banks of River Bagmati, the sanctuary depicts the female side of the perfect. Guhyeshwari is likewise known for its Tantrik customs (obscure convention of Hinduism). It is trusted that individuals who need to pick up quality visit this sanctuary to venerate Mother Goddess.
10. RAMJANAKI TEMPLE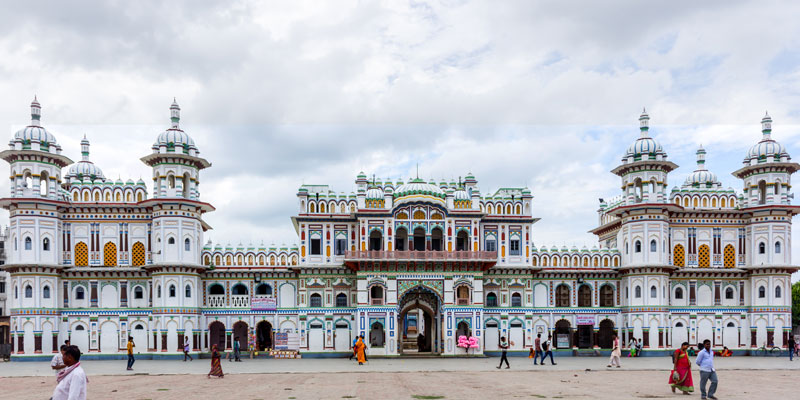 The gorgeous Janaki Mandir is a Hindu temple at the heart of Janakpur. Fully built-in brilliant white color, the temple is an example of perfect creativity. For the Hindu believer, Janaki Temple is one of the holiest places in Nepal. It is one of the famous temples in Nepal that must be visited once in a lifetime. The orientation of the town in the Holy Scripture brings thousands of guests every year from Nepal and India to this antique temple. The temple is also famously known as the Naulakha Mandir (meaning Nine Lakhs). The cost for the structure of the temple was about the same amount of money: Rupees Nine Lakhs or Nine Hundred Thousands and for this reason the name. In 1910, the Queen Vrisha Bhanu of the Indian state of Tikamgarhm constructs the temple. Thousands of pilgrims visit the temple during November and December for Vivah Panchami, the town's major once a year festival when the wedding of Sita and Rama is celebrated with various re-enactments. It is an equally popular time for modern-day marriages.
11.

HALESI

MAHADEV TEMPLE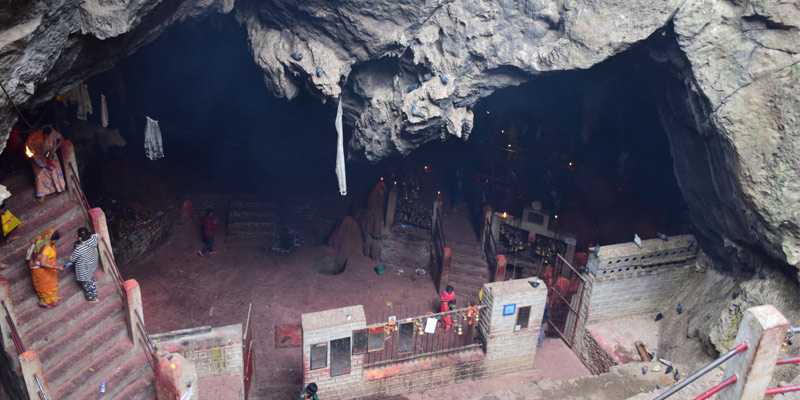 Halesi Mahadev temple situated in the hilly area of Khotang district of Nepal. It is found between to sacred rivers with on the right side its Dudh Koshi River and on the left side it SunKoshi River. Among a few religious destinations of Khotang district, Halesi Mahadev bears a huge significance. That is why Halesi Mahadev temple is listed as the top fifteen famous temples in Nepal. It is around 222 kilometers from Kathmandu following the method for Dhulikhel, Nepalthok, and Khurkot right to Ghurmi, Okhaldhunga, Jayaram, and Halesi. As we travel through the limited street so it takes around 8 - 9 hours to reach Halesi Mahadev. Halesi Mahadev is two feet tall Shiva Linga that reveres inside the Cave. There are two columns near one another on the north of the Shiva Linga making a thin pass. It is trusted that heathens can't go through this entry, yet admissions of the wrongs submitted would empower access through. A large number of lovers come to offer to love the image of Lord Shiva with the conviction that Halesi Mahadev favors the poor with flourishing and the oblivious with information and wisdom.
12. GOSAIKUNDA TEMPLE
Gosaikunda Temple is also one of many sacred and famous temples in Nepal. This temple is in a very beautiful place in Nepal. According to Hindu legends, the Gosaikunda Lake and its nearby area is the residence of Lord Shiva and Lady Gauri. According to Hindu legends, Lord Shiva created Gosaikunda Lake when he shoves his Trisula (trident) into a nearby mountain to extract water. The lake melts and sips downward to shape the Trisuli River and remains frozen for six months in the winter season. People believe that the water of Gosaikunda is very blessed full and holy. During the festival Ganga Dasara and Janai Purnima, lots of people visit this temple to celebrate and take blessings. This temple and temple is also known as the trekking and tour destination in Nepal.
13. RAM DHUNI TEMPLE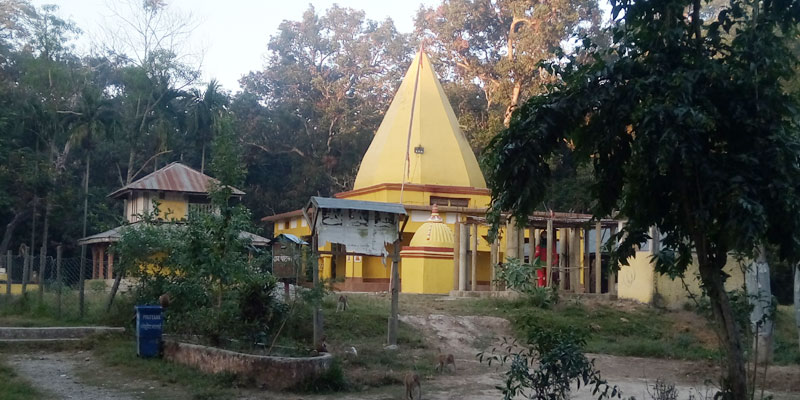 Ram Dhuni temple is one of the oldest and most famous temples in Nepal. It is located 8 Km away from headquarters of Sunsari 'D', Inaruwa. Ram Dhuni temple is very holy and sacred as well. It is believed that when Lord Ram and Sita were spending their Banbasa, that time, they went there and stayed for a night and blew up a fire. Ever since that flame is consuming till now. So this temple gets the name Ram Dhuni which implies where Ram made a flame. Alongside Dhuni (the flame), there is a statue of Lord Shiva made by Black and White Saligram stones. The temple is surrounding by a wide dark green forest. You can also see the small pond there where Goddess Sita used to take bath. This is marked as a standout amongst the most religious spot of Hindus. People hugely celebrate Ram Navami at the temple. Temple area is always kept clean and delightful.
14. SHESHNARAYAN TEMPLE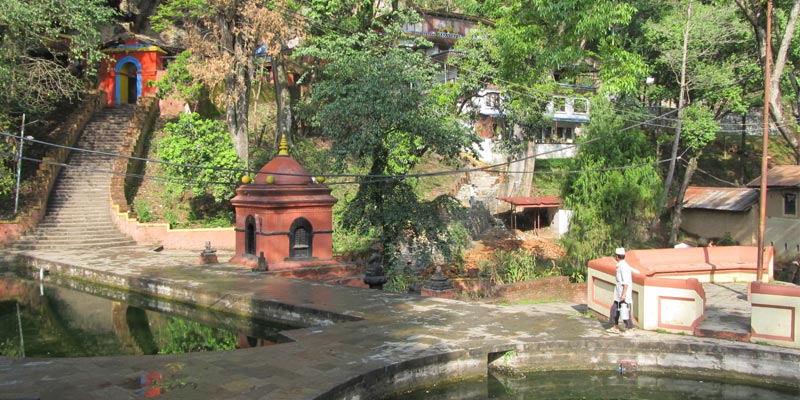 The Sheshnarayan Temple is an old and holy Hindu sanctuary complex in Sheshnarayan Village Development Committee. The site is situated close to the antiquated town of Pharping, Pharping lies around 20 KM from Kathmandu city. This sanctuary is one of the four Lord Narayan sanctuaries of Kathmandu valley. The other three sanctuaries are Bishanku Narayan, Icchangu Narayan, and Changu Narayan in four cardinal ways of Kathmandu valley and accepted to protect. These sanctuaries are viewed as worked amid the rule of the Licchavi King Vishnugupta. People go there for a different purpose.
15. BOUDDHA STUPA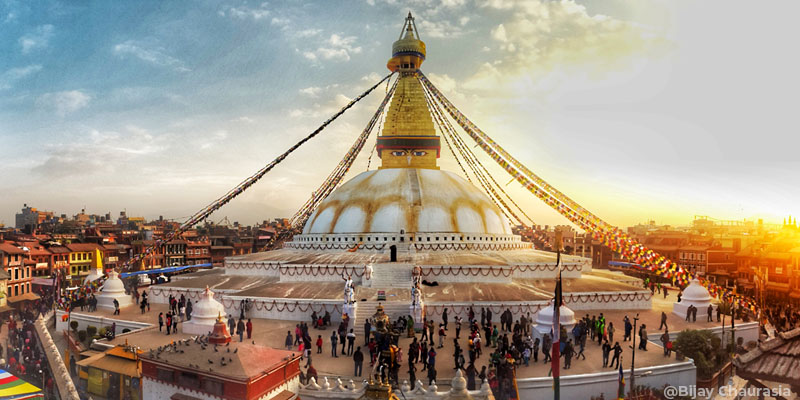 Boudhanath Stupa is one among the most basic one of a kind structure stupas inside the world. In spite of the fact that this is a Buddhist landmark, there is no religious limit for guests. With a separation crosswise over 120 meters, Boudhanath Stupa is the greatest stupa in Nepal and a crucial site of adventure for a few Buddhists. Discovered just 7 kilometers from Kathmandu, the stupa was apportioned UNESCO World Heritage Site in 1979. This spot has an immaculate Himalayan culture with a strong closeness of Tibetans, Sherpa's and Buddhist priests and religious. It is the most blessed spot for Tibetans outside Tibet. Truly flawless eyes between stupa otherwise called 'knowledge eyes' show omniscience of Lord Buddha. Despite the fact that somewhat harmed amid the tremor, it appears to have been revamped viably with a similar stunner of a stupa.
All these fifteen famous temples in Nepal are just the major ones. There is much more to observe in Nepal while looking over religious and cultural aspects. Some include Champadevi Temple - Kirtipur, Salinadi Mandir (Temple) - Sankhu, Arjundhara Temple – Birtamod, Budhasubba Temple – Dharan, Dantakali Temple – Dharan, Pindeshwor Temple – Dharan, Sataasi Dhaam – Jhiljhile, and many more. You can get through all these religious and sacred places if you wish to. All these places will fill you with peace and eternal satisfaction.
So, book your luxury cars, jeeps, and other transportations at best and reasonable prices with Nepal Rental Car. And visit all these places (top 15 famous temples in Nepal and many others) with divine values and fill yourself with pacific soul and a rigorous mind.